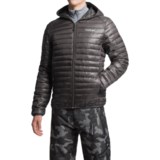 Closeouts. Boulder Gear's Packable D-Lite jacket offers travelers and adventurers a unique perk: It packs down into a U-shaped neck pillow for sleeping on long bus, train or plane rides.
Average Rating based on
18
reviews
3.888888
0
5
Verified Buyer

Reviewed by kb from nj on Tuesday, February 7, 2017

very lightweight but keeps me warm. packs small. zips right up to the chin to keep out the wind.
actually, the zipper runs all the way to the top of the hood, so you could zip it up
to complete cover your face -- i dont see any benefit to that tho cause u can see a thing.
it might have been useful if they put in eye holes, but there arent any.
has inside pockets for storing a hat, gloves or scarf and the "pillow slip".

Verified Buyer

Reviewed by FlagstaffBob from Flag, AZ on Monday, February 6, 2017

This is a nice jacket for the price. Not the lightest, not the warmest, not the most breathable. Quality product with some nice features. I am please with what I got for my money.

Verified Buyer

Reviewed by NC.Bare.it from Asheville, NC on Thursday, January 12, 2017

Great jacket for the value. Bought two as Christmas gifts and one for myself. Can't beat it!

Verified Buyer

Reviewed by Yurii from Ukraine on Tuesday, January 10, 2017

Great jacket!!

Verified Buyer

Reviewed by beebee from New York on Monday, January 9, 2017

very warm and fitting good price is fair

Verified Buyer

Reviewed by Rocco from Exon, PA on Monday, December 26, 2016

Didn't know what to expect, but it was warm. Now I haven't worn it in the real cold temps yet, but in the high 20's an into the 30's it did well. I thought it odd the zipper closed the entire hood, but hey, that helps with the packing. Good Deal!!!

Verified Buyer

Reviewed by JLL from Golden, Co on Friday, December 23, 2016

Lite warm, a great value for the $

Reviewed by The Lee from New Jersey on Thursday, December 22, 2016

I ordered a "dark olive" color based on the item photo image, but the received jacket color is completely different with item photo image's color.
If you select a "dark olive" color jacket by any chance, surely refer to below link for associating the "dark olive" color

http://www.sierratradingpost.com/garmont-civetta-gore-tex-hiking-boots-waterproof-for-men~p~9722k/

Reviewed by jim from colorado on Thursday, December 15, 2016

Now that winter is here, I have been turning to this coat rather than the 5 or 6 others that I have, so I must really like it.
1. It's almost featherweight , and much warmer than I expected because it feels so light---I haven't tried it in zero degree temps yet, but will probably have to add a layer underneath when it's really cold.
2. Medium size is a nice fit for my 5'8", 155 pound body---it's not a slim snug fit, but doesn't look large.
3. I love the full zip on the hood--when walking in the wind, I can zip it up so only my eyes (and maybe the tip of my nose) are exposed. On the other hand, the hood is large and deep, so peripheral vision is poor---I wouldn't want to use the hood on a job site or walking in traffic---my carharrt hood is much more effective for those conditions.
4. At this point I have had no problems with tearing or with the zipper (I did have those problems with other jackets, so I know it can be frustrating).
5. And best of all, all this comes at a very low price---I save my $400 technical coat with all the upscale features for skiing and snowshoeing.

Verified Buyer

Reviewed by Fat Tire Jackson from Wisconsin on Monday, December 12, 2016

I'm a big fan of off brands that beat the big guys at their game. This was almost that.

As others stated, it is remarkably warm for how thin and inexpensive it is. It looks nice too. It also runs large. I'm usually torn between a Medium and a Large: at 5' 10" 175lbs, 41" chest, not fat, not super fit, regular Dad build, I'm just in between. But on this coat I ordered a Medium and kind of wish I had a Small. It's close enough though.

My biggest beef is in the outer material. It's cheap nylon, not ripstop, and it is shiny (which is fine). But it catches and tears easily. After wearing for only 3 days I rubbed my shoulder on a doorknob and immediately had a 1" tear. And although I've found a matching color Duct Tape to patch it, I don't think this is right. I've had my previous REI puffer for 6-7 years and although it leaks a little down and looks like a dog bed, it's still holding up just fine.

It isn't returnable per STP's policy, but at the current closeout price I'm tempted to buy a replacement--wear the torn one most of the time and pamper the new one like a baby. But I'm suspicious what the new jacket would do if I ever brushed against a tree branch while skiing or cycling.

YMMV. Make your own decision.