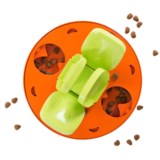 Closeouts. What's it going to be, door number 1, door number 2? Even after your pup figures out how to flip up the treat doors and rotate Outward Hound's Paw Flapper dog puzzle to find more, he'll enjoy the game every time. So fill it up with treats or kibble and join in the fun.
Average Rating based on
3
reviews
4.000000
0
5
Verified Buyer

Reviewed by Jules from Texas on Monday, June 26, 2017

I purchased this treat puzzle for my mini pig. He is very curious and incredibly food motivated. I like for him to work for his treats. He figured this out within the first few seconds, but it does keep him engaged for a while. I haven't tried it with my dogs yet, but plan to when my piggie is not around. He is possessive with his toys!

Verified Buyer

Reviewed by But I didn't save money to send him to college from Austin on Monday, June 5, 2017

Well either my dog is a genius and should start doing my taxes for me or I am using this wrong. Didn't take him too long to figure it out, and rotating with the nose is pretty fast....

Verified Buyer

Reviewed by Nebraska Climber from Nebraska on Tuesday, May 24, 2016

This puzzle is pretty fun for the dog (a blue heeler mix), and fun for me to watch him play. My dog is extremely food motivated and always in need of a challenge. If I don't give him a challenge, he makes them himself (like jumping three foot barriers to get at locking plastic cupcake carriers, or stealing hidden items out of closets, or opening doors and taking lids off closed containers to find his kibble, or somehow retrieving his favorite toys off of tall dressers--still don't know how he did that). So, I try lots of these things to try slow down his eating (gives us more peace when we're eating and keeps him from wolfing so much he makes himself sick) and to challenge him. I was a little worried when the toy arrived that he would just destroy it, as he seems to think that plastic was invented for him to destroy it. However, he has so far followed the rules for the toy and not messed with it (though I don't leave it out for him to poke at if it's not in use). He figured out very quickly how to manipulate the thing, and has his own methods. Because the center piece rotates, he figured out that he only has to open one flap and push his nose to rotate the tray and get at all the kibbles. But, he'll still have to usually open a few flaps to get those recalcitrant last pieces. It has rubber feet but moves around a fair amount on a tile floor (it was hilarious to watch him gingerly pick the whole toy up by a flap so he could drag it to the rug and get more friction. The little scent holes in the top of the orange tray really do work, and the smell of one piece of kibble in there will drive him nuts. I only give it 4 stars rather than 5 because I'm a little dubious about long-term abuse and the longevity of the toy. However, for the price on STP, it's probably already served its purpose. My guy will destroy a regular chew toy in anywhere from 4 minutes to an hour, so the fact that he's used it at least three times and it's still working is amazing.