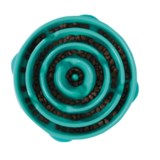 Closeouts. So your dog is capable of wolfing down breakfast in 9 seconds flat? Outward Hounds' Fun Feeder dog bowl channels his kibble into endless rounds of maze-inspired channels to slow him down and help prevent indigestion and bloat.
Average Rating based on
17
reviews
4.705882
0
5
Verified Buyer

Reviewed by Mountain Mana from Bend, Oregon on Wednesday, September 20, 2017

THIS IS GREAT! Our vet. tech. recommended this type of dish, she deserves a gold star! Our pup is interested in the world around her, would rather interact with something than eat a meal. She is all about being busy, having a project. This dish keeps her engaged, in her mind eating is now a game or project rather than a meal. PERFECT! I can see how it would also be great for a fast eater, definitely slows them down, they have to work with the dish to get their kibble. It's easier in the center, the channels become deeper and narrower the further out toward the edge of the bowl. Little dips allow kibble to move from one channel to another. If your dog enjoys a project, this is a great one!

Verified Buyer

Reviewed by J-Dog the Dog Person from Tennessee on Tuesday, August 1, 2017

Our dog loved to scarf down her food and then try to get at the other dogs' food before they were done. We taught her to "wait" but then thought this might slow her down enough that she wouldn't try the patience of all of us quite so much. Worked like a charm! I don't know that she loves it, but we do! She cleans all the crevices of food and I've put it in the dishwasher (top shelf) to give it a deep clean and it's still ticking. Great purchase for our chow hound!

Verified Buyer

Reviewed by Launa S from Crowley Lake, Ca on Wednesday, July 19, 2017

Our 45lb black lab/beagle mix can finish a cup of kibble in 15 seconds or less. Then he hovers over the other dogs while they're eating, creating tension. We tried other products to slow him down, but the improvement was marginal. The Fun Feeder Bowl makes him the last one to finish eating! We are very happy with this result! The only drawback is he flips kibble out of the bowl with his tongue. This is a concern as he takes meds with every meal. We have to watch to make sure a pill doesn't hit the floor and get eaten by one of the other dogs. Once he swallows his meds, we can walk away.

Reviewed by AK from CA on Saturday, June 17, 2017

This slow feeder is well made, but I have a medium size dog that gets sores under her chin when I use this bowl regularly. Seems the ridges are too deep and the constant rubbing is a problem. A shallower size or more space between ridges would be better for some dogs.

Verified Buyer

Reviewed by JVB87 from North Carolina on Thursday, May 4, 2017

My lab is a voracious eater and used to wolf her food down in no time at all. With this bowl she gets to enjoy mealtimes for at least a few minutes.

Verified Buyer

Reviewed by Marmat the swamp gardener from NY on Thursday, March 30, 2017

I have a golden who can finish a bowlful of chow with one swipe of her tongue. Then she gets hiccups and/ or throws up everything. I tried one of these and have since bought another 3 of the round ones in different patterns. The flower patterned one slows her down the best but they all work well.

Reviewed by AK from California on Sunday, February 12, 2017

I bought the teal one which is a large size. However, my dog is medium sized so the ridges are a little too deep and narrow. She's won't ignore any pieces of kibble, but it does appear too much effort for her tongue to reach the bottom to get the last pieces. I did not think about that before purchase. In the wild, the effort might be expected to survive when dining on the carcass of dead prey, but this is dry dog food being fed to her in my kitchen.

Verified Buyer

Reviewed by Jac from Montana on Wednesday, February 1, 2017

These work great, they slow our labs down without making it too difficult. I do worry that if I left them out they would be chewed to bits, but hasn't happened yet.

Verified Buyer

Reviewed by Jenn from Tennessee on Wednesday, December 14, 2016

I should have read the description better, so I'm to blame for my dissatisfaction. I was expecting the barrier parts to be a little flexible, but they are not---they are very solid, hard plastic. I tried it out on my Aussie pup and he struggled to get all the food out. Maybe it will work when he's a little older and bigger.

Verified Buyer

Reviewed by Art from Carlisle, PA on Wednesday, December 7, 2016

We bought the orange, round bowl with circular walls. It has worked very well in forcing our Lab to have to eat slower in that she cannot get as much food in one gulp but has to work to lick it up within the more narrow channels. There is no sign of any frustration and I suspect she thinks she is actually getting more to eat than she was before.