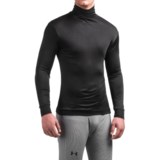 2nds. With Terramar's long sleeve interlock turtleneck you can experience the luxury of silk with all its warmth, lightness. It also wicks moisture and releases excess heat.
Average Rating based on
288
reviews
4.177083
0
5
Reviewed by Trader x from Eastern PA on Thursday, March 30, 2017

If you are not a bargain shopper, you should be looking else where, these shirts are 2nds. The blemishes are limited to lint balls from the yarn that appears to be snags but they do not affect functionality(since this shirt will have another top shirt over it) and should not get worse. I got about a half dozen or so and some are near mint and some have one or 2 lint balls, all acceptable as 2nds. Taking a star off due to an appreciable amount of fit variance(about 2 inches in the torso); ohterwise, it's quite true to size. If you're fussy about this size variance, you've be warned. I'm very happy with the purchase and so is my wife since we share the lot due to the size variance, lucky us!!

Verified Buyer

Reviewed by jpot from Rhode Island on Wednesday, March 8, 2017

Warm but lightweight and feels good next to skin

Verified Buyer

Reviewed by Crisse from MetroWest Boston on Thursday, January 12, 2017

Sierra used to carry these for women, but not this year. So I ordered a comparable size in Men's. These are thin and not suitable in my opinion to wear alone. I love them as a base layer under sweaters and even blouses. Under sweaters, they afford you no itch from wool etc. Under blouses or shirts, they allow a layer of warmth. But, please! STP, please carry these in women's sizes!

Verified Buyer

Reviewed by Dawn from North Carolina on Friday, December 30, 2016

These are my go-to favorite for work and travel. Silk is warm, light and an effective primary layer. Great shirts!

Verified Buyer

Reviewed by The Outdoorsman from Canada on Tuesday, June 28, 2016

Have been waiting for this product to once again be available since my stock on hand has been depleted down to just one. The others have been used often and long and were showing their age. I use my (now replenished) supply for just about every conceivable use, but mostly as a next-to-skin garment for all outdoor activities. It also does a superb job under rougher clothing you don't want against your skin.
Everything I've said about these turtlenecks ALSO applies to the silk long johns which are just as tough, comfortable, and long lasting.
Hard to go wrong with Terramar Silk!

Verified Buyer

Reviewed by C from North Carolina on Thursday, June 16, 2016

This is the best light weight silk shirt that I have ever purchased – compared to especially other brands. It is soft, not too tight , and easy to wash and care for. I recommend it highly.

Verified Buyer

Reviewed by Laughter from NW Missouri on Sunday, June 12, 2016

This top is perfect for cool fall football nights - I buy men's size for the length, wear a team T over it and it keeps me comfy down to the mid-40s unless it's windy. [My 'thermostat' is set about 20' higher than most] Have a couple of these already and I wear them frequently in the late fall/winter - great shirt. Would be wonderful for a layer too.

Verified Buyer

Reviewed by bluebill from Wisconsin on Tuesday, June 7, 2016

I like wearing these in cold and in warm weather. Great moisture wicking undergarment. Only problem is they are expensive and stretch out after aprox. a year

Verified Buyer

Reviewed by Gear Institute Dave from Maine on Wednesday, June 1, 2016

Great turtleneck. Extremely thin, lightweight, and warm. Make sure to size correctly because it can be prone to rips if it's to tight; if unsure which size to order, you may want to order a size up.

Verified Buyer

Reviewed by APD from Boston on Wednesday, May 18, 2016

Not heavy and appears to be well made; look forward to wearing it in winter with Terramar climasense merino-poly base layer. Should work out well for warm but not bulky layer under down coats. Massachusetts coast in winter can be pretty chilly.