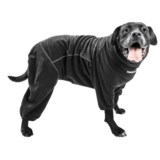 Closeouts. Four-legged shorthairs stay cozy warm on winter walks when zipped into Hurtta's Microfleece jumpsuit. Stretchy, warm, breathable and unobtrusive, even for dogs unaccustomed to wearing anything at all, the jumpsuit is designed to allow bathroom breaks (boy or girl) and has a convenient opening for a leash attachment.
Average Rating based on
6
reviews
4.166666
0
5
Verified Buyer

Reviewed by Aspen'sMom from Virginia on Sunday, January 1, 2017

I looked at Hurtta's site for sizing and it's listed wrong everywhere. This will be going back.

Verified Buyer

Reviewed by KaptSlow from High Desert on Wednesday, December 7, 2016

My wife's antique lab is really feeling his age. I started putting one of my sweaters on him to keep him warm in the evenings before going to bed. Happened to see this item on a Sierra sale flyer, measured and found that an available size would fit him; so I bought it. Although the back legs hang a little long, bunching up the material and holding it in place with a binder clip solves the problem. Murphy is happily snoozing in his sweatsuit as I type this.

The only drawback is that we have to take it off him when he goes out to do his business. We tried leaving it on once, and it resulted in a wet, smelly mess. At this point he likes the sweatsuit and rolls over on his back to let us get it on him easier. No big deal, the dog just has to train you to undress and dress him at the appropriate time. The world does revolve around the dog. Right?

Verified Buyer

Reviewed by 12Goldens from NC on Tuesday, November 22, 2016

I ordered 28's based on my Golden and Bluetick's length. While the Frost Jacket fit my Golden, this swallowed her. I didn't bother trying it on the hound. It seems well made and, like others have noted, the black fleece picked up every hair. I would love to try smaller sizes but they're not available. If you have a small pony that needs to be kept warm, order away!

Verified Buyer

Reviewed by Rebe from Wisconsin on Tuesday, November 22, 2016

With the cold weather here, my little dog gets cold so easily so I put this on him and keep it on him almost all the time. It's a little hard to get on but once it's on, it fits really well. Not sure how to tell if it works or helps...he doesn't seem to mind having it on and I think it's helping. Then when we go out for a walk, he gets another coat which fits well over this jumper. I've actually never seen anything like this before so I was excited and thought it would help better than a coat or sweater because the dog won't lose heat from under their legs. It's a little pricey but I think it's worth it.

Verified Buyer

Reviewed by Michael N from Connecticut on Sunday, October 9, 2016

I bought this jumpsuit for my 27 lb schnauzer, who has a thinner coat of fur and enjoys the warmth of a sweater. While it's a bit tricky to put on him, the jumpsuit looks great once it is on - better than the stock photos. Definitely heed the sizing advice from Hurtta and leave plenty of extra room in the chest; my dog has a 23 inch chest but the jumpsuit size of 28 inches is just right.

Reviewed by Dirt and Grass Tracker from Kentucky on Thursday, September 15, 2016

I just got the size 22L Hurtta Microfleece Dog Jumpsuit. I tried it on two of my dogs. It fits the smaller dog perfectly. She is about 50 lbs. From her collar area to her tail is ~21 inches and her chest is 26 inches. She was so excited to try it on that she couldn't be still and I still managed to get it on her. It is much easier to put on than the Hurtta rain jumpsuit. Like most black fleece, it shows every hair and piece of lint, etc. but that doesn't really matter because this garment is for warmth. The length of the legs is good and the coverage is good. I love that the neck is super long and fits snugly around her face when zipped all the way and pulled forward. She has very short hair (staffie) and will want to wear this all the time when she goes outside. I actually wanted this for my boy who is a larger dog. He is about 70-75 lbs. From collar to tail is ~25 inches and his chest is 31 inches. He is also taller than my girl. This jumpsuit fits him, too, but is probably a little too snug for long term wear. I think a 26L would fit him but was and is not available.