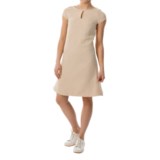 2nds. Undeniably sweet in its simple silhouette and feminine capped sleeves, this adorable sheath dress boasts additional detailing in the tight, herringbone weave (for a touch of dimension) and the cute keyhole button detail at the collar (for a touch of distinction).
Average Rating based on
23
reviews
1.260869
0
5
Verified Buyer

Reviewed by NORPPA from Florida on Saturday, January 21, 2017

Other dressesi ordered in the same size fit fine--this one runs SMALL. Also, the fabric feels like came from wartime feedsack supplies.

Verified Buyer

Reviewed by Chico, NY from New York. on Sunday, November 27, 2016

I would give a 0 for this dress if I could. I ordered a large which is my size. The dress looks more like a small. Didn't bother to return, because of the effort it entailed. Decided to give it as a present to my niece who is a small.

Verified Buyer

Reviewed by SB from MA on Monday, September 26, 2016

Cute dress, but I normally wear a medium- I am fit and have an average build. I saw the comments that it runs small, so I ordered an XL. I cannot squeeze my shoulders in to put it on.

Verified Buyer

Reviewed by Mo from NYC on Wednesday, September 14, 2016

Reviews stated that it ran small (and it did) and the larger size was perfect. Very casual yet sophisticated enough for work or play. Love it and the brand was a real plus!

Reviewed by Mehitabel from Tennessee on Saturday, September 10, 2016

What a shame! This is an adorable dress that I would LOVE to wear, but I can't get it onto my body. I am usually a 10 in a dress. I ordered a Large because the summary warned that it runs small. Well, I gave it my best. Once I managed to get the lovely fabric-covered button out of its equally lovely fabric ring, I did get it over my head. The effort ended as it squashed my rib cage, never mind my thankfully generous bosom. I would order the XL, but given this unfortunate sizing mistake, I will go looking for a friend small enough to enjoy it as a gift.

Reviewed by chs from colorado on Sunday, July 17, 2016

i usually wear a 0 or XS. I ordered the small and could barely get it on. Suspect I would need a M or even L to fit.

Verified Buyer

Reviewed by daphtpunkgirl from St. Louis on Thursday, June 23, 2016

Do NOT buy this item unless you're a TINY person. I mean, like a size ZERO and then MAYBE it will fit. Every size (whether you choose, S, M, L, XL) has the same exact physical measurement which, at best are XS. Which is too bad because it's a darling style (I'm thinking these were rejects from the L*FT brand so maybe I'll go find the real dress from that designer).

Verified Buyer

Reviewed by Amy from Illinois on Thursday, June 23, 2016

It is a cute dress but because of a terrible design you can't actually put on the dress. It needs a zipper.

Reviewed by HV Emsy from hudson valley on Thursday, June 16, 2016

I love the style of this dress. Tore open the package, held it up, and started laughing as the XL looked like a M or S. Thought maybe I hadn't lost enough weight, so passed it to a slightly smaller friend. Her thought? XL girls. Lol.

Luckily I know someone the size of a minute this will probably fit, but not sized anywhere near correctly.

Reviewed by T-town Runnergirl from Tacoma, WA on Tuesday, May 3, 2016

The dress looks cute on the model, and I thought my 34A narrow torso could carry it off, but it is VERY tight in the top and overall weirdly cut and difficult to put on because there's no zipper. It looked okay once I had it on, but the back bulges and the sides flare oddly, even when the front is arranged well. The fabric is nice and might be worth it for another sewing project!