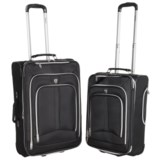 Closeouts. A great value on one checked bag and one carry-on. Both spinners in this soft-sided Olympia Hamburg suitcase set are made from ballistic fabric and nest into one another when not traveling. Nice extras include a wet pocket inside for last-minute swimsuits or dirty laundry, and a stow-away piggy-back strap in the front pocket for carrying options. Expandable, too!
Average Rating based on
6
reviews
4.000000
0
5
Verified Buyer

Reviewed by rencpharmd from NorCal on Tuesday, December 13, 2016

I got a great deal on this set and love how the smaller one nests inside the other. The zipper feels pretty sound, but the handles are slightly wobbly compared to my old Samsonite. My main concern is the quality of the materials for this product. The vinyl that separates the compartments is very thin and the stow-away piggy-back strap broke the first time I used it to attach the smaller suitcase. This set can last if you are not overly rough with it. I'd say a great buy for an infrequent traveler, otherwise if you're a road warrior, invest your money in a more quality product.

Verified Buyer

Reviewed by Auntie from Kentucky on Wednesday, October 26, 2016

My nephew loved this luggage and what a great deal! Perfect for a young man just starting to make travel plans with friends.

Verified Buyer

Reviewed by Lost Dutchman from Superstition Mountains on Sunday, September 11, 2016

I wanted to like this luggage. It looks very nice and I bought it at a wonderful price. However, I had to send it back.

Why?

Five factors determine the usefulness of luggage. In order of importance, they are:

1. Zippers
2. Wheels
3. Handle
4. Internal frame
5. Fabric

Zippers are number one because the luggage is useless if the zipper breaks, and zippers are the most likely component to fail. After all, luggage is made to hold the contents, and it cannot perform that function if the zippers don't work. And TSA seems to take perverse pride in wrecking zippers -- remember, TSA people in the baggage handling area are opening and closing your luggage when you fly by air, and they seem to take out their frustration with their job on zippers. Sadly, the zippers on this luggage are weak. They are low grade nylon zippers and are not close to being as durable as the zippers on mid-range luggage such as Travelpro or Delsey. In fact, the zippers were dysfunctional when I received the product. They are self-repairing zipper, so I was able to carefully get the teeth properly meshed, but clearly, the zippers were not going to last.

The wheels were excellent and they were recessed, which helps to protect the wheels from damage by luggage handlers and TSA. Wheels are number 2 because rolling luggage without wheels is not rolling luggage.....

The handle seemed durable. A handle that doesn't work seriously impairs mobility.

The internal frame is important because without a wide, rigid internal frame, the contents of the luggage push outward against the fabric and cause it to tear at stress points such as seams and corners. The larger bag had a thin band of flexible plastic as the internal frame. In my opinion, the frame was not up to the task of keeping the shape of the luggage, and I estimate that the fabric would start to tear after two or three airline trips. If the fabric rips, the luggage is useless.

The fabric was excellent, a very strong 1650 denier polyester. But without a proper frame and proper zippers, the fabric means little because the fabric will quickly deteriorate if the zipper and frame are poor.

This luggage is good for someone who does not travel by plane. I estimate that it will function properly for three to five airline trips, and then expose the user to the risk of luggage failure during travel, which is a terrible experience. Anybody who has ever seen their luggage arrive on the carousel only to find that the zippers are broken and the contents of the luggage are missing or strewn about the carousel knows exactly what I mean. Perhaps someone who typically travels by car and needs a large and small suitcase, or a college student who gets to school by car and needs a handsome set of luggage to transport clothing. The smaller carry-on may be useful since it would not be exposed to the rigors of the baggage handling process, but the zipper is almost certain to malfunction, especially if you try to cram a bit too much into the bag.

I returned this item and spent a bit more to get Travelpro because I frequently travel by plane.

Verified Buyer

Reviewed by Holly151 from Houston on Friday, August 19, 2016

Sturdy and nice. I like the piggieback feature.

Verified Buyer

Reviewed by old guy Murrells Inlet from South Carolina on Tuesday, August 2, 2016

They were advertised as spinners. They are not. I really checked out the quality and decided for my use and the price point it was a good value. They tow not spin. I am keeping them, should be fine

Verified Buyer

Reviewed by walking addict from Colorado on Thursday, July 14, 2016

So my title is in reference both to the number of bags you get for this amazing price, and also that I bought 2 sets! We had an unlovely experience on our last flight, so decided to revamp our method of air travel. Also, our large bag is on its last wheel (literally). So I bought this set for my husband. When it came, we found the quality was outstanding. Our foster son then looked at it and said, "wow, this is great. I could really use this as a Christmas present." he frequently flies to the west coast and is planning a trip to Cambodia in December. So I bought another set. SO happy with these! They are a steal!