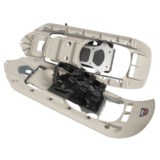 Closeouts. A versatile, durable design and optional Modular Flotation tails allow MSR's Denali Ascent snowshoes to shine in the steeps as well as on powder and ice, making them a great all-around choice for demanding backcountry use.
Average Rating based on
10
reviews
4.900000
0
5
Verified Buyer

Reviewed by JoeD from UP from UP Michigan on Tuesday, February 21, 2017

I bought these snowshoes on the recommendation of my brother-in-law who is about my size (190 lbs) and does more snowshoeing than anyone I know. I have only used them for one long day and on crunchy snow. I think they may not be the best choice for fluff, but they worked great for semi-soft snow. They were so light I almost forgot I was wearing them. I crunched over brush, saplings, beaver dams and etc... and they stayed on all day.

Verified Buyer

Reviewed by Adventure ME from Maine on Tuesday, February 21, 2017

Perfect for more aggressive winter hikes, purchased after borrowing friends pair to complete some 4k's in the White mountains. I've already returned with my new MSR's in the recent snow. Conditions were considerably more powdery. I broke trail the entire way. 125 lbs not including the full pack I was carrying, used the tail attachment for this hike. Very satisfied! Excited to continue testing them.

Verified Buyer

Reviewed by Jay from Durango, CO on Monday, February 13, 2017

These are great snowshoes and have been on my list. I've rented them and was already sold on the product - just waiting on the right price. And Sierra Trading comes through WITH the float tails included in the package. Perfect. Now I just need a bag.

Verified Buyer

Reviewed by Trey B. from Washington on Tuesday, February 7, 2017

Not many places these snowshoes won't get you. Amazing traction on steep terrain. Highly recommended!

Verified Buyer

Reviewed by Jeff the Surveyor from Western New York on Tuesday, February 7, 2017

I just used these this week in the Adirondacks and 2 feet of firm snow. The majority of my 5 mile hike was on a little used snowmobile trail and I questioned whether putting the tails on or carrying them along since I knew I would be off trail at some points. I weigh 250+ lbs and decided to walk with the tails on and I was very pleased with the light weight. I have been using all sorts of snowshoes and different construction through the years and I LOVE these!! The only thing I think could use improvement is the bindings. The bindings did work well once strapped in, but I am used to some speedier binding hookups than these. The nice thing about these bindings is that they store flat, so they are compact, which is nice if you want to transport or pack these in to some location.

Verified Buyer

Reviewed by Laura from Washington on Monday, February 6, 2017

I am new to snowshoeing and have only worn these once so far but they held up well for my first trek. My only complaint is that my feet are pretty small so the straps are so long that they hang pretty far off the side and I may end up having to trim them. The heel elevators are awesome and the shoes withstood rolling terrain in the Washington mountains.

Verified Buyer

Reviewed by Missbehaven927 from Central Oregon on Thursday, February 2, 2017

Very practical

Reviewed by tuffguppy from Earth on Friday, January 27, 2017

I have used these 8 times off trail for 2 to 3 hours each time for fitness and not a leisurely walk. I don't think it's snowshoeing if you are walking down a packed path. You don't need snowshoes for that. I start at the trail head and then head out cross-country. I have climbed and descended very steep terrain and it's always uneven and unpredictable. It's usually deep powder here in Utah, but I sometimes get into some hard, icy, crusty snow. They grip well in the crust and on the steeps. Once I tried the heel lift for climbing a very steep hill. I think it helped me be more comfortable, but found it impossible to lift with gloves on and difficult to put back down with gloves on. I have climbed that steep hill multiple times but I don't hassle with the heel lift any more. I weigh 152 w/o a pack. I put on an 18 lb pack and I sink quite a lot in deep powder. I don't think they provide the flotation my other brand 30" snowshoes do, but they're acceptable. I can't see ever using the snowshoe, in powder, w/o the tails attached, even w/o a pack on. Once I went out w/o the pack and I did not feel I could take the tails offn but that would be easy, even with gloves on if you wanted to do it.
I do like that the binding hinge does not cause snow to be flipped up on the back of my legs and body. The binding is also very secure and it's pretty quick and easy to get the buckles secured, but not as quick as some others I've tried, but they really hold the snowshoe and helps it feel like it is a part of your boot. Great for uneven, unpredictable terrain. Where the binding hinges it's metal against metal. It starts to squeak annoyingly and I spray some Teflon lubricant on the hinge points every couple of outings. I think these snowshoes will last a long time. They do make more noise than snowshoes that are not made of hard plastic, especially on crust, but it's not a problem for me. I have still been able to get pretty close to deer and elk I have been seeing this winter but I try not to get too close.

Verified Buyer

Reviewed by Johnny the hobo from WA on Thursday, January 26, 2017

These snowshoes are made of solid stuff tip to tail, they will not break any time soon. The bindings seem kind of weird at first but really end up being super secure and very adaptable to any boot you need to wear (I take mine back country snowboarding so I wear clunky snowboard boots). If you've got the $$ then get these, you won't look back.

Reviewed by Bret from Washington on Wednesday, January 4, 2017

We just bought a couple sets after renting this exact set from our REI. My wife has tired of slipping around on cross country skis so absolutely loved the stability on many types of snow with these. The 22 inch decking was great in some compact snow we started out in. Once we got a mile down the path it turned to powder and the 8 inch tails fastened on to give the needed float. But the part she loved best was the aggressive crampons on the underside. Way better than most. Very versatile, strong, adaptable to snow conditions and plain fun.