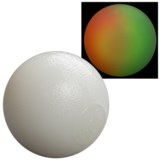 Closeouts. Let your dog play after dark with the Nite Ize Meterolight K-9 LED ball. Bright, durable and water-resistant, it has a push-button LED light that won't turn off when it's bounced.
Average Rating based on
9
reviews
4.666666
0
5
Verified Buyer

Reviewed by BomberDon from Nebraska on Tuesday, November 8, 2016

Grandkids love playing with it, especially with the dog and cat... yes, even the cat enjoys battling at the ball.

Verified Buyer

Reviewed by Sgs508 from Seattle on Thursday, October 20, 2016

This is the toy to keep your dog active! Living in Seattle means long dark winters, these light up balls are durable, batteries last long, and have the option of changing batteries, although the process is not super easy.

Verified Buyer

Reviewed by elchivoloco from Colorado on Wednesday, October 12, 2016

Enticing color, nice mouthfeel. Good stimulating chew. Stays illuminated during bouncing and chewing. Seems water resistant--works fine after spending time in my water dish. If you like tennis balls during the daytime, you'll love this one for nighttime fetch!

- Suci 3 year-old pointer mix

Verified Buyer

Reviewed by deb from pa. on Wednesday, October 5, 2016

i thought it was really neat..but again dogs only see certain colors or ranges of colors ..i thought it was cool..but not 1 of my 4 dogs liked it..and hard to shut off.would be fun for a small child.than a dog.

Verified Buyer

Reviewed by Arroyo from Arizonio on Monday, September 5, 2016

It bounces great, and it glows continuously (in a rotating array of colors), making it easy to find in the dark. My dog even likes to carry it around outside, using it as her own personal flashlight. We will never be without one of these balls!

Verified Buyer

Reviewed by TK9 from California on Sunday, August 21, 2016

My dogs absolutely love these! I love them because when we are playing on my property late at night we never lose the balls.

Reviewed by Arroyo from Arizonio on Friday, July 1, 2016

OK, I have an odd dog. She seems to think she needs a ball in her mouth to run outside and go potty. We live in a rather wild unfenced area, and when I take her out at night, thanks to this ball, I know where she is all the time. And if she does drop the ball, it's really easy to find it again in the dark. It bounces REALLY well, too. Just the perfect dog ball. I don't allow her to sit and chew on it... she has to turn it in to me when she comes inside, at which point I turn it off. So I hope that way it will last a long time. We both dearly love this fun little ball!

Verified Buyer

Reviewed by Jpiezo from California on Wednesday, June 22, 2016

This is a fun ball for our dog, too dogs are color blind, the color is nice.

Verified Buyer

Reviewed by Emmy Kait from Maine on Wednesday, May 25, 2016

Our dogs have always loved this ball. We bought one about 10 years ago, and it was well loved. The batteries are a pain to change, and the sun wears down the outside and it finally just died. It's replacement unfortunately was solid red, and while the dogs like it the same, it was harder to find in the snow as the red wasn't as bright. We just picked up this one, and I'm so happy. It's a great toy, it's super fun in the snow on those dark afterwork hours. The ball is a bit squishy, and dogs chewing on it can damage the light workings inside. No risk of injury to the dog, but as the retail price of this ball is almost $20 it's a pricey chew toy. It does not glow in the dark.