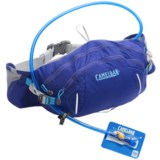 Closeouts. CamelBak's FlashFlo LR lumbar pack boasts a deep, 50-ounce reservoir to quench your thirst. But it's the low-sitting design, zone-cushioned mesh backing and center cinch belt that'll keep you comfy all day long from bike to trail to marathon. Added pockets handle maps, phones, snacks, keys and more.
Average Rating based on
10
reviews
4.300000
0
5
Verified Buyer

Reviewed by surfermike from Florida on Friday, January 19, 2018

Bought this to use for short trail riding, +-10miles, works great and stays in place. Only gripe is that it started to loosen after a few jumps and drops by the end of the ride. Add a little wax to outer face of strap and it stays tight.

Reviewed by Dixiedip from Maryland on Friday, September 15, 2017

Haven't used yet but tried it on and feels very comfortable on my lower back. Will update after fist use.

Verified Buyer

Reviewed by AikaneKai from California on Tuesday, September 12, 2017

Thanks Sierra Trading Post! You saved my race! I had a SUP race scheduled in Hawai'i but my Lumbar 2 liter Camelbak was getting old so I ordered a new reservoir from Camelbak with plenty of time but they sent the wrong product. With only 2 days left now before departure, I ordered from Sierra Trading Post and received the correct reservoir and new pack on time and for a better price than Camelbak's price for the reservoir alone!

Reviewed by BennnnM from Wisconsin on Wednesday, July 12, 2017

The hip belt on this is really bad. At a slow jog, the belt loosens enough that you have to tighten it every 15-30 seconds - not fun on a long run. I emailed Camelbak with the problems I experienced and have so far received no response.

Verified Buyer

Reviewed by NIcholeKristensen from Boise, ID on Tuesday, June 6, 2017

Comfortable pack. Excited to use it for hiking this summer!

Verified Buyer

Reviewed by Denise W from New Mexico on Friday, May 26, 2017

Good size and ample tubing length - the only slightly annoying part is the strap loosens.

Verified Buyer

Reviewed by Margaret from Maine on Thursday, May 25, 2017

I bought this for running as I wanted something without shoulder straps - it's getting hot and too many straps on bare shoulders rub and annoy. I've used it half a dozen times, and am very happy with it. My runs are anywhere from 40 min. to 1 hour 15 min., always on mixed trails, and I have found this to work very well. It's not distracting, it stays put. After reading the reviews I was concerned about the belt slipping, but it's not been a problem at all.

Verified Buyer

Reviewed by Anonymous from Pasadena on Sunday, April 9, 2017

will add a magnetic connector (CamelBak part $12) to left side of buckle in stead of using the clip

Verified Buyer

Reviewed by Ali from Utah on Wednesday, February 22, 2017

I was so excited to see this little CamelBak and do not regret buying at all! Such a great little buy and it hold plenty for a hike along with your phone, wallet, or whatever else. it is also comfortable to wear. Good if you are carrying a kid in a carrier on your back or something like that.

Verified Buyer

Reviewed by Selah Walker from Washington on Monday, May 9, 2016

Second one I've own. CamelBak changed designed, this one doesn't slip as much as the older version, because they changed the belt and the bag holder inside the belt. It didn't slip on the marathon I just finished. And yes, it will bounce if your "fast" but if you walk or jog slow it doesn't bounce around. They changed the pockets, so the pockets are more upright and not slanted so if you open while "running" or walking stuff won't fall out if not secured in the webbed pockets. Not as much reflective piping on the back as previous model. I only adjusted my belt once during the marathon (this is typical because of weight loss during the race even with fluid consumption). I do not clip the tubing to my clothes, I tuck it in the belt so I can just pull it up, this works for me so I don't hit it or get tangled up in it.
I like this CamelBak because it leaves my arms/hands free for arm swing, I'm a race walker. I do not have any type of back discomfort from this CamelBak and I can carry my gels/cellphone/keys.