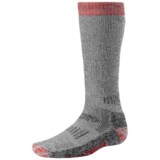 2nds. The smart choice for every hunter, whether he's trekking the woods all day or waiting in a stand. These versatile SmartWool socks will keep your feet dry, thermally regulated and odor free.
Average Rating based on
134
reviews
4.485074
0
5
Verified Buyer

Reviewed by Rocky from Virginia on Thursday, August 18, 2016

Cant find a better sock for myself i have several

Verified Buyer

Reviewed by Cristina from Wyoming on Thursday, August 7, 2014

The description is very accurate. I love SmartWool socks period; have never been disappointed in any style I have purchased. This particular pair is very thick so you'll want to be sure your boots have a little extra room. You won't be disappointed in these!

Verified Buyer

Reviewed by Matt from Texas on Monday, August 4, 2014

I have several pairs of smartwool socks. I got this pair to go with my Keen snow boots. I needed the extra thickness and warmth.

Great price!

Verified Buyer

Reviewed by Minnesota Farmboy from Minnesota on Tuesday, April 29, 2014

I have several pairs of these socks I bought several years ago. Unlike the older socks, these socks are middle weight instead of the claimed heavy weight. They are 5 star middle weight socks but since they are priced as heavy weight socks I gave them 2 stars. I do not know if SmartWool no longer makes the heavier sock or if they made a batch of lighter socks that they felt compelled to sell. If the later, they should indicate that otherwise their brand image is damaged.

Verified Buyer

Reviewed by Ice fisher from Minnesota on Monday, April 14, 2014

Nice but runs and loose threads that could affect the integrity and longevity of the socks. I am used to seconds having mostly cosmetic defects and might not buy these again.

Reviewed by patti from colorado on Tuesday, February 11, 2014

Bought 3 pairs of these socks for my son to wear under boots. Winter has been merciless for those outdoors and feet get cold fast, my son reports these are comfortable, soft and keep his feet a bit warmer than his other wool socks. Hope you have these in stock again soon STP!

Reviewed by treehuggerjer from WI on Thursday, January 23, 2014

SO comfortable and SO warm! And look good, too!

Reviewed by southbound1 from PA on Thursday, January 16, 2014

I've always had great luck with STP and nothing but good things to say about them but simply don't have positive feedback on any of their "2nds" offerings. Simply too much variation regardless of "2nds" warning. In this case there were actually two totally different socks. Same color yes and both were SmartWool (as advertised) but one was thick and heavyweight ( again as advertised) but other sock was a lightweight Smartwool. Pretty blatant error and obviously someone just trying to match this for quick resale. Disappointed, losing $6.95 on shipping, third time I've been hosed on "2nds". Lesson learned.

Reviewed by OlTrailDog from Bozeman, MT on Saturday, January 11, 2014

I believe I got a bargain on these sock at STP. I was stunned when I pulled these heavy weight socks out of the box. Just the ticket for hunting and winter activities. All my socks are wool. I have no use for the light weight varieties, and therefore typically filter out the light weights in the search results because I will only consider mid-weights at a minimum. I was surprised to see these heavy weights in my size in the sale results....all right! I am thoroughly happy with the Smartwool products I've purchased and own quite a few mid-weight socks (actually ordered three more pair of sale priced smartwool mid-weights last night). Over the past couple I have been binging on purchasing sale priced Smartwool, Icebreaker, and Fox merino wool socks as I stock up for retirement. I am convinced my feet are not going to grow any more and I am constantly wearing out socks. These heavy weights are a welcome addition for my hunting and winter sports activities. CAUTION: Smartwool products simply reek of top quality!

Reviewed by Jenn of Ark from Arkansas on Friday, January 10, 2014

I bought three pair of these on special; gave one to my brother to his delight. He says they're great and really likes their length. His feet are size 15 but he's wearing these in the largest size (can't remember what they call it) I had purchased because it was the only size available on sale. I wear a woman's size 11 and they're just nice and big and comfy on my feet. There are a few spots on the leg where the stitching "skipped" a few threads and then integrated back into the sock so you can see the weave on the outside just a teeny bit, which is why these are called 2nds, I suppose. These are VERY warm socks and very long, they go right up to just below the knee on me which is great on really cold days.