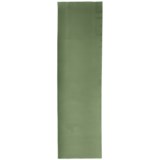 Closeouts. Add an extra level of comfort to nights in the great outdoors with ALPS Mountaineering's regular sleeping pad. Dense, texturized foam protects and insulates against cold, uneven forest floor for a better night's rest.
Average Rating based on
52
reviews
3.596153
0
5
Verified Buyer

Reviewed by mechristoladam from SFO on Monday, June 12, 2017

You might as well be sleeping on the ground!

Reviewed by Tina from Seattle on Wednesday, March 29, 2017

Sorry, I do not understand the craze for inflatable sleeping pads. To me they seem a hassle - it takes time to inflate them and they can break in the middle of the night. Of course, I personally do not need a soft bed for sleeping well, as long as it is warm. This is a great pad for a good sleeper like me who does not need a mattress to sleep on in a tent. It insulates just fine. I also like it because I can easily roll it out for sitting or lying on during breaks, even on wet ground. And I do not want to buy inflatable pads for my kids as they would surely jump on these and break them. I have always used this type of sleeping pads and they work just fine. They weigh almost nothing and can easily be fastened outside the backpack, so they do not waste room in the bag and are easy to grab during breaks.

Verified Buyer

Reviewed by mtmountainman from Montana on Monday, November 28, 2016

I bought this not to sleep on but to cut in half and take hunting to use as a sit pad. It is perfect for that. If I was going to use it as a sleeping pad it would be lacking.

Verified Buyer

Reviewed by Security from VA on Friday, November 18, 2016

For the price. Good item. It is a little narrow.

Verified Buyer

Reviewed by rsgobo from Yardley, PA on Tuesday, August 16, 2016

I bought this pad to cut up and use as a layer of protection for some equipment I have, which is fine for this use and I'm happy with this purchase. I would not recommend this pad for sleeping on the ground. It is not dense too narrow and would not protect ones body from any [...] on the ground. I could see myself getting a dismal nights sleep on this pad. There are better sleeping pads than this...way better.

Verified Buyer

Reviewed by Dot from Atlanta on Thursday, June 23, 2016

Nothing fancy, just a lightweight, inexpensive mat. Got it for kid's summer camp trip.

Verified Buyer

Reviewed by Matt from Wisconsin on Saturday, February 6, 2016

Would be OK as insulation but not much for comfort. To thin

Verified Buyer

Reviewed by TK from FL on Wednesday, October 14, 2015

This product was child size.

Verified Buyer

Reviewed by Kayakyakyak from Minneapolis on Wednesday, September 2, 2015

Very light and more comfortable than the traditional blue pads. Durability may be a concern but at this price buying a couple still puts you ahead.

Verified Buyer

Reviewed by Larrybud from Missouri on Wednesday, August 26, 2015

Used this in my hammock to try to take the chill out of my back without a bottom quilt. It worked great! Very light, stays in place and was very easy to carry. Had to put the rain cover on my backpack and used the tightener rope to attach it to the outside of the pack. Didn't absorb water and was so light that it was not a hassle. Easily rolled and the included elastic straps were perfect for storing.