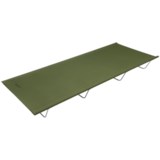 Closeouts. Alps Mountaineering's lightweight cot is perfect for happy campers and impromptu house guests.
Average Rating based on
167
reviews
3.982035
0
5
Reviewed by CascadianAaron from Oregon on Monday, July 31, 2017

Held my 240lbs no problem, was quite comfortable on it. But it is difficult to set up and I've already lost an end cap after only two nights of use.

Verified Buyer

Reviewed by lorraine934 from Marion, MA on Monday, July 24, 2017

I haven't camped in 40 years and used this for a three night trial camping trip. It was surprisingly comfortable.

I even bought one for the dog after seeing her sleeping on it,

Verified Buyer

Reviewed by Kari from Colorado on Wednesday, July 5, 2017

My 13 yo son put this cot together and used it at camp. He said it was great!

Verified Buyer

Reviewed by UtahPete from Utah on Tuesday, June 27, 2017

We needed a couple of lightweight, compact cots to get us off the ground when tent camping with our motorcycles. Got these and we're happy with them so far. They're a little tricky to assemble the first time, but once I understood how they go together and figured out how to get the legs squeezed into the holes in the lateral tubes, it goes pretty easily after that - enough not to be an issue anyway. Small sacrifice for the benefits it affords (light weight and compact)

Verified Buyer

Reviewed by TomS from Utah on Tuesday, June 13, 2017

Over 60 did not have as much trouble as some assembling them. We timed assembly for each one to 3 minutes. Using for Grandkids ages 5 and 3 which save me remodeling the guest bedroom with bunk beds.

Verified Buyer

Reviewed by Summer Lover from NC on Tuesday, June 13, 2017

This is not so easy to put together.

Reviewed by Clare from Boston on Friday, June 2, 2017

I know there are a lot of people on here having a hard time setting these up. I bought two for use when we have house guests as well as for travel. Assembly is pretty straightforward if you use the gift of leverage. I'm a woman, for what it's worth, and not crazy strong. Getting the legs into the holes takes a little practice, but once you have a method it's easy. What I do: Stand the cot on it's side so that one leg (already in first hole) is against the ground and I can then easily use resistance of floor to get the other side of the leg in.

These are comfortable and heavy duty ... but HEAVY. When I travel with them, I use them in hotel rooms where I need a bed for my kids (rather than putting them on the gross floor). I don't think I would bring these camping as it's not worth the hassle. (We rarely stay at a campsite for more than 2 days.) If you were staying at a campsite for a week, maybe the weight/trouble is worthwhile. Assembling a single bed from the bag takes a few minutes (you need to put side rods together, slide them through pockets, curse yourself when you put them in backward, reinsert the right way, jam the legs in, then sit back and wonder whether your kids appreciate the extra effort). :)


Verified Buyer

Reviewed by court in the canoe from the ozarks on Tuesday, May 16, 2017

Never got it together. Spent an hour and a couple bashed fingers before I gave up. Don't do it. Maybe if the canvas were in the sun and warm it would've stretched but it was not stretching in 70 degree weather.

Verified Buyer

Reviewed by NW in the SE from Georgia on Saturday, May 13, 2017

I bought this because when car-camping I always seem to get a rock in the middle of my back. I wanted something that was relatively small to pack but would get me off the ground.

Because I had read of people having trouble putting these together I tested it at home one night. Assembly was easy, provided you use leverage (while standing, put one side of the leg in one side rail and put that rail on the ground, holding the other rail up lean on the other side of the leg and put it in the rail). If you have both rails on the ground and try to fit the legs it isn't going to work.

Support is adequate. This is really a compromise, rigidity vs bulk/weight, and it is okay. Mine didn't sag too much but if it did I would rig a brace between the legs at each end.

The ferrules that join the side rail pieces seem a little short when assembling/disassembling but are good enough once it is put together.

One recommendation for any purchasers. Make sure your pad that you use between you and the cot is wide enough. My backpacking pad is fairly narrow and my elbow got cold when it rested directly against the cot instead of on the pad (this was expected).

Overall I am satisfied. Assuming it holds up as well as my other Alps gear (remember, no hard or sharp edges on anything you wear/put on the cot) this will do the job on our camping trips.

Reviewed by Emkaze from California on Thursday, May 11, 2017

I just put my Alps Mountaineering Lightweight Cot together, and
folks, it wasn't difficult at all. I didn't really even bother with the directions.
I can't wait to sleep on this while I'm camping instead of a pad on the cold hard ground.