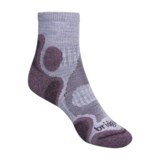 2nds. Bridgedale's comfortable X-Hale Trailhead socks protect your feet from impacts and abrasion thanks to the double loops of fiber at the ankle, heel and ball of foot.
Average Rating based on
105
reviews
4.647619
0
5
Verified Buyer

Reviewed by Schipmom from Wisconsin on Thursday, December 25, 2014

These are really nice socks with good cushion. Great for walking. Very happy with them.

Verified Buyer

Reviewed by SouthernBell from Blue Ridge Mountains, NC on Tuesday, October 21, 2014

I wore these socks hiking and they were very comfortable and warm. I wouldn't mind having 10 pairs of these socks for the Fall and Winter!!

Verified Buyer

Reviewed by Teresa from California on Thursday, September 18, 2014

Love the extra cushion in the important areas, that way you don't have to sacrifice cushion for bulk. Great moderate weather socks!

Verified Buyer

Reviewed by jess from philly on Saturday, June 21, 2014

great sock. extra support in heal

Verified Buyer

Reviewed by Mia in Arvada from Minneapolis on Monday, May 5, 2014

I have a thing about socks. They can't be slippery. if they're too stretchy, retain sweat and heat and keep falling down, they go straight to Good Will almost brand new. I've given away more socks than I have kept. To say I am picky is an understatement. My feet are the most important appendages I have so so when I find the right pair of socks, I wear them for years never getting rid of them. These socks may not be the thickest for hiking, I will probably have to wear liner pair but good grief! These Bridgedale X-Hale socks are comfortable. They fit snug as a hug and I think I might have to buy another pair or two!

Reviewed by Rkdsmd from Iowa on Wednesday, January 1, 2014

I've worn this Bridgedale sock with my running shoes for several years. Very comfortable, nice to gave a sock that fits. I wear a 6 1/2 -7 shoe and small fits great.

Reviewed by Anonymous from Southern California on Thursday, December 26, 2013

I don't wear my other socks since I got these, unless these are all in the dirty laundry pile. (My keens and thorlos get a little loose by the end of the day.) I even ordered 2 more after my first order of 2. I'm actually wearing a pair as I write this! It's currently December, so I've only worn these with jeans/warm ups. I'll be looking into getting some bridgedale Xhales in a shorter style to wear with shorts within a few months.

Reviewed by AFairportFan from Southeastern Massachusetts on Monday, December 16, 2013

Great, long-lasting socks that fit a woman's foot. I always purchase a pair or two when I see an especially good price on STP!

Reviewed by Kathy from asheville nc on Friday, December 13, 2013

Great weight. Long lasting.

Reviewed by Ashton from California on Saturday, September 14, 2013

I hiked about 700 miles in these socks this summer, through the High Sierras and all kinds of different terrain, alternating between two pairs. These socks are amazing!! They are still as good as new (aside from being a little stained now), they don't even have the starts of holes anywhere on them. I'm really really impressed with them. The cushions on the key places are perfect and still cushion-ey, and they really helped keep my feet comfortable. They are really breathable, my feet always stayed cool, and they dry quickly. I very highly recommend these socks, and they are totally worth every penny you spend on them! I ended up buying these because I'd been out on the trail and my other socks had [...] out on me, and these were the kind that the outdoor store I went to carried so I paid $16 for each pair. I was instantly pleasantly surprised by their really high quality and comfort. You won't be disappointed with these socks!!