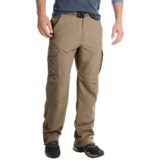 Closeouts. A hiking pant that converts quickly and easily to shorts when the day warms up. Pacific Trail's nylon faille convertible pants are made of lightweight, quick-drying fabric with articulated knees and an integrated belt.
Average Rating based on
41
reviews
3.170731
0
5
Verified Buyer

Reviewed by Ja from Georgia on Saturday, November 11, 2017

Very comfortable and nice fit.

Verified Buyer

Reviewed by Pantless in FL from Florida on Thursday, November 2, 2017

My husband has worn 34/32 since I met him 10 years ago and he couldn't even come close to buttoning or zipping them. I understand manufacturers can be different so returned and re ordered 36/32, with exactly the same results. He couldn't zip or button. So now what? Order 38 or 40 I'm baffled that there is that much variation in the pants. He has convertible pants for work that I used to order without issue. However, they have stopped carrying them. I'm so disappointed and my husband has not had work pants for 3 weeks now.

Verified Buyer

Reviewed by Tom from California on Sunday, October 29, 2017

Used these in the Galápagos Islands both on a boat and off in changing weather. Easy to zip and unzip. Light and fast drying. Good fit. I wear 32 x 32 at 6 ft and 170 pounds. Waist was snug but not uncomfortable. No belt required.

Reviewed by AeroJäger from Indiana on Wednesday, October 25, 2017

The zipper that attached the lower leg to the shorts broke. The odd part was that the nub broke, not the zipper part. Just a bad source for the zipper. Because of this I had to choose to walk around with only one leg exposed or go with a shorts only option. The day was cold so....... not happy to be wearing shorts only.

Verified Buyer

Reviewed by Big Poppa from Wallkill NY on Friday, October 20, 2017

Awesome pants. Hiked 30 miles in Virginia Appallachian trail and they worked great. I only wish they were more of a slimmer fit. But I would recommend them.

Verified Buyer

Reviewed by Krustyklimber from Virginia on Wednesday, October 18, 2017

As other reviewers have stated, these are sized small, really small, and the belt doesn't make sense, but they are a great value at this price.
The only real issue I have, is the pockets... firstly the hand pockets aren't deep enough and things (like my phone) either don't fit or fall out easily... and secondly hook and loop fasteners on the cargo pockets are on the "wrong" sides, on the first day of use the hook side would grab at the webbing tab on the pocket flap and rendered it a ball of fuzz and now the tab will have to be cut off (*had the hook side been sewn to the flap, instead, it's likely that this wouldn't have happened).
The shorts are short, above the knee by a bit (and I'm not all that tall, at 5'7").
But, all that being said, I think I am going to buy another pair of them... one size bigger than the pair I have.

Verified Buyer

Reviewed by Peace from Florida on Thursday, October 12, 2017

I bought 5 pairs in different colors for my husband. He has worn 34/32 since I met him 10 years ago. He could not even come close to buttoning them. Disappointed is an understatement. I realize clothes can vary by maker, however....this is clearly way off.
If you order, my suggestion is order larger sizes for sure.

Verified Buyer

Reviewed by Ledge from North Carolina on Wednesday, October 11, 2017

I question the use of hiking pant in the description. Avid hikers tend to be more muscular in the in the legs than the average population. These pants were designed and constructed with "normal" pant dimensions therefore leading me to believe they are "casual" pants not hiking pants. These pants are way too tight in the quads and calves to be considered hiking pants.

Verified Buyer

Reviewed by Just me from Iowa on Tuesday, October 3, 2017

The fabric is just ok, not as breathable/bendable as others. We ordered these as 34x32, the tag says 34x32, but they are closer to 30x32. 4 inches off is too far, people!
To add additional frustration, it's just not worth it to return them with the 7 dollar processing fee.
I believe this will be my first and last experience with stp.

Verified Buyer

Reviewed by Maui Mike from Maui on Wednesday, September 20, 2017

I am a 34X32 and they fit me perfect. They are light weight and comfortable. Only laundered once and it came out without wrinkles. I will know better in a year.