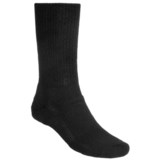 2nds. Thorlo's walking crew socks provide maximum walking density padding for the serious pavement-pounder, protecting feet from impact, shear and blistering.
Average Rating based on
41
reviews
4.268292
0
5
Verified Buyer

Reviewed by kmclmn from Virginia on Wednesday, December 13, 2017

On the packaging of these socks there is a large "Imperfect" stamped on it that cannot be removed. I was going to give these as a gift but would not do that based on the packaging alone.

Verified Buyer

Reviewed by jcondron from Baltimore on Tuesday, October 10, 2017

Soft and thick


Verified Buyer

Reviewed by Beck the Nana from North Carolina on Saturday, September 9, 2017

I ordered this product due to the recommendation of my pedicure specialist. They are well made, soft, comfortable and padded for walking. If you have feet problems, this product is for you. I highly recommend this product.

Verified Buyer

Reviewed by sx3jammer from west allis ,wi on Sunday, August 6, 2017

Best walking socks I've ever had .

Verified Buyer

Reviewed by Satisfied Customer from Great South on Tuesday, April 11, 2017

Fantastic product, as always. Best light sock on the market.

Verified Buyer

Reviewed by Guga from Durham on Wednesday, January 25, 2017

A piece of JUNK! anything Sierra Trading Post sells, I have come to realize is just junk. I have been a customer since 1999. I always thought I was getting a good value. Over the years I realize the clothing is irregular, seconds, never fits quite right and in the ends was a waste of MONEY! I recommend going to stores and shopping the sales. As painful as that sounds...it is the ONLY way to get a TRUE bargain.



Verified Buyer

Reviewed by JAR from el paso tx on Monday, September 19, 2016

socks are comfortable for about 6 hours. I stand up for 6 to 10 hours daily so the socks start to feel hot and bulky. The running socks are great and feel very comfortable all day. When I wear them to the gym my feet feel cool on the treadmill.

Verified Buyer

Reviewed by Sunny from Florida on Thursday, November 5, 2015

My husband was pleased with the comfort of his pair of Thorlo walking socks. They were not durable. One was badly snagged at his ankle when he wore them while walking our dog or working in his garden. Both socks were badly snagged and unraveled when laundered and dryed. They had been turned inside-out, as directed by their label, before washing.
I will be returning the battered pair and nine unworn pairs to Sierra Trading Post.



Verified Buyer

Reviewed by AlaskanBackpaker from Maine on Friday, October 30, 2015

I am used to heavy and medium backpacking socks, but I have been using Thorlo socks since the 1980s. When I did order I did not notice that these were 2nds!!!!!!! So I downgraded from a 5 star rating to a 3 star rating. That was not clear when I ordered these from Sierra Trading Post. I also noted on the last rated item that your website has a glitch and is not POSTING the correct year date. It clearly showed a year date of 0001!!!!!!!!!! Please correct so these are time stamped accurately, so people will know whether it is a current rather than old problem.

Verified Buyer

Reviewed by Just Me from Maine on Tuesday, October 6, 2015

Wow !! I am so happy I tried these socks. I work 12 hour shifts and I am on my feet continuously. These are so comfy. I had to wear them with a pair of shoes that were loose on me as the cushioning takes up space. I usually wear Smartwool and will do so outside of work. However, Thorlo are my new work sock.