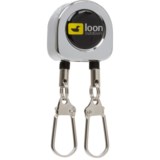 Closeouts. Forceps, nippers, knot tools, leader straighteners...What fishing tool accessory won't work with Loon Outdoors' Dual Zinger? Two individually retractable steel cables secure your accessory to your vest, belt or harness, thanks to durable steel construction, swiveled accessory snaps and a strong pin attachment.
Average Rating based on
11
reviews
3.818181
0
5
Verified Buyer

Reviewed by HomerK from Pennsylvania on Wednesday, August 2, 2017

Strong retrieval, adequate cord length, very secure snaps attach tools. Only drawback is the pin on back is a bit wimpy.....but not critically so.

Verified Buyer

Reviewed by Coach from Rockies on Tuesday, June 20, 2017

Already came off my vest once. The "strong pin" that attaches it is basically a short safety pin. I guess I'll figure a way to better attach it. The cables are great, and other than the safety pin that holds it to your vest, this is a solid product.

Verified Buyer

Reviewed by Anonymous from oregon on Thursday, May 18, 2017

If you have arthritis like I have, opening and closing the keepers on this is very difficult; otherwise, it seems sturdy enough to do the job.

Verified Buyer

Reviewed by Joseph from Massachusetts on Tuesday, May 16, 2017

Should last quite a while. Looks great.

Verified Buyer

Reviewed by bardkin from Colorado on Thursday, May 11, 2017

Both lanyards are strong, have a good sized secure clip and retract perfectly.

*However*
#1) The clasp on the back to attach it to your gear is not really ideal. Could be much better. It is strong, but it is only held on by a very small screw in the middle. I don't have much confidence in it staying on for very long, and you may lose it along with whatever is on them.

#2) the lanyards are not quite long enough. They need to be about a foot longer. For instance, I would never put my hemostat on them cause I'd never reach the fishes mouth without ripping the whole thing off. It may be useful for floatant or dry patch but that's about it.

Otherwise, I think they are very close to having a really useful and well made product.

Verified Buyer

Reviewed by Fitchin' from St Lawrence river area on Monday, February 13, 2017

The pin that attaches the zinger to your sling pack or vest rotates so you can pin on either vertically or horizontally. Handy if you have a sling pack with vertically aligned attachment holes.

Verified Buyer

Reviewed by Benny from pa on Wednesday, February 8, 2017

great price heavy duty

Verified Buyer

Reviewed by Steelie Rivers from Ohio on Monday, January 2, 2017

Only been out twice since I received the loon zinger but initial impressions are positive. Pretty heavy for its size. Hopefully that translates to a quality product. Holds my hemos and my nail knot tool with no advancement of retractor cables. One thing that could be improved upon are the length of the cables.

Verified Buyer

Reviewed by AWTY from TX on Tuesday, December 27, 2016

Love these!! The steel cables last a lot longer than the other kind.

Reviewed by Tom S from New York on Thursday, December 15, 2016

I just received this Item last night and its still connected to the packaging and its broke one of the zingers is half way out and locked up... I feel like I was ripped off by this company for $5.50. I know its not allot, but I don't like flushing five dollar bills down the toilet... this is one of the first times tmhat I ordered from STP and have been this disappointed by a product..