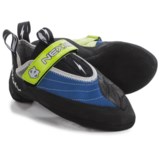 Closeouts. Soft, yet powerful, Evolv Nexxo climbing shoes are adept at handling cracks and big pockets on roof climbs. The aggressive downturned profile, supersoft upper and clean, single-strap design produce a responsive shoe for steep, demanding routes.
Average Rating based on
13
reviews
3.692307
0
5
Reviewed by RockClimber45 from Minnesota on Thursday, July 27, 2017

I ordered these for climbing outdoors. They aren't as sensitive as my Scarpa Booster S's. The toe and heel are bulkier and stiffer than I would have liked but I figure they'll last longer for outdoor climbing. I ordered these in my street shoe size and they fit well right off the bat. They do take some getting used to because of the weird fit. I feel like I'm lacking on my climbing technique because I'm focusing too much on finding a good foot hold because I don't trust my feet as much. I'm keeping them because they seem like will last a while and they were a great deal.

Verified Buyer

Reviewed by Parry Family from Wisconsin on Wednesday, June 21, 2017

These take some time to break in but once they are, they are a great shoe. They seem to run small vs street shoe size.

Verified Buyer

Reviewed by Luke from austin, tx on Wednesday, May 24, 2017

slightly smaller than my size in the 2016 evolv shaman. fit feels snug and conformed, doesn't slip. great shoe!

Reviewed by kenclimber from Utah on Wednesday, May 3, 2017

I got the Nexxo hoping that it would be similar to the shaman but in a slipper version. Unfortunately the Nexxo is a very different shape. The shaman fits my feet better than pretty much any climbing shoe i have used (and I've used a lot of different shoes over the years), but the Nexxo has a baggier heal (more dead space for less secure heal hooks), and super pointy toes making it so that your toes are crammed together sideways and extremely uncomfortable. Also, as another reviewer mentioned, it's like the knuckle box is in the wrong place on these shoes. The knuckle box is there to provide a space for your toe knuckles to curl up into, but I have to tape up my ring toes because there isn't room for them in the knuckle box and they tear the skin off my knuckles very quickly. I was also expecting them to be a bit of a softer shoe than the shaman since they are a slipper, but they are at least as stiff as the shaman's if not more so. If these shoes fit your feet and you are looking for a stiff, agressive shoe, then these are probably a great shoe. Just don't think that they will fit in any way like the shaman's (even though they are both part of the Sharma signature series).

Reviewed by Eugenel from Pittsburgh on Saturday, April 8, 2017

Great shoe for the price. Not as good as the 2015 Sharman; knuckle box isnt as good but it does okay. Heel hooks work well and toe hooks work above average. Does fit small but every aggressive shoe fits small for a reason. The shoe is suppose to contour to your foot. It will take about two weeks of average wear to break in; it will still be painful but your feet will build calluses to adapt with the pressure points. There are only a couple shoes on the market I would recommend over this but they are twice the price. These are amazing at the price point they are being sold.

Reviewed by Joey JoJo from Anycity on Wednesday, March 15, 2017

Fits small, usually a 10.5 in Evolv and had these in an 11 and still a touch on the small side however the toe box is roomy and on par with Evolv. Very aggressive downturn profile on these thus a specific tool for your tool box. If you aren't on harder overhangs I would say these probably aren't the shoes you are looking for. Another reviewer mentioned the knuckle box being in the wrong place and I agree. Not the best shoe IMO but if you need something aggressive and affordable I would consider. Possibly a good gym shoe to tear up on overhangs.

Verified Buyer

Reviewed by Dylan from Denver on Tuesday, March 14, 2017

I ordered these because I could not resist such a good deal with a 20% off coupon. I wear other Evolvs that aren't as aggressive, so I ordered the same size. I also ordered half a size up. The 'knuckle box' on these shoes is completely in the wrong place.. my big toes were slightly curled but my toe knuckles were smashed into the front rubber and not anywhere near in the knuckle box. This means I was losing a lot of skin and had to tape my toes, and was also extremely uncomfortable. I thought maybe my feet were just shaped weird, but I talked to two other people at the gym with Nexxos and they both said the exact same thing, they are shaped weird and never fit their feet well.

Otherwise, the shoe is very aggressive and looks like if it fit correctly they might be good shoes.

Reviewed by Asa from Colorado on Thursday, December 29, 2016

I wear a size 9 shoe (five ten approach shoes and most other shoes; sometimes 8.5). I ordered half a size up, but they're too small and I know they won't be comfortable even after stretching so I am exchanging for a size 10. I browsed around the internet and it seemed like ordering a half size up from your shoe size would be the best idea, but now it seems like definitely at least a whole size up. They look awesome and I can't wait for the replacements to arrive so I can test them out at the gym.

Verified Buyer

Reviewed by Outdoor peeps from California on Tuesday, December 13, 2016

I ordered this as a birthday gift for my boyfriend. This was the second seller I shopped from. The shoes didn't fit at all even tho we ordered 3 sizes bigger than his actual street size, which is 11 1/2 . The rock-climbing shoes were size 13. We did like the shoes but unfortunately this kind fits smaller than you think. We are very disappointed..

Verified Buyer

Reviewed by Andy from New Jersey on Tuesday, November 29, 2016

These are aggressive and stiff without feeling clunky. The heel fits me much better than my Miura VS, but the toes are pretty pointed so if your 2nd toe is longer the fit may be off. I did size up to an 11, where my Miura VS were size 9. I originally bought these to replace my gym shoes but found myself climbing harder with these than my miuras. Would recommend and may even get a 2nd pair. These are great if your feet fit.