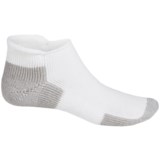 2nds. Thorlo's THOR-LON® Rolltop running socks are specially engineered to provide support and cushioning to critical strike zones while running, minimizing blisters and sore feet after long miles.
Average Rating based on
13
reviews
4.923076
0
5
Verified Buyer

Reviewed by JT from NSW on Wednesday, July 4, 2018

Couldn't find a flaw in the socks received. Very happy with it & STP

Verified Buyer

Reviewed by Wendy the Walker from NY on Saturday, June 2, 2018

Really comfortable. I thought that they might slip into my sneaker but they stay up really well. I love them so much I bought 12 pairs!

Verified Buyer

Reviewed by KC from MD on Wednesday, May 9, 2018

Great socks. Hold up well under extreme conditions.

Verified Buyer

Reviewed by Charlene from AZ on Wednesday, January 24, 2018

I have worn Thorlo socks for years with this being my favorite style for walking and pickleball due to the extra cushioning where needed.
I haven't examined these closely enough to determine what deems them 2nds. They look great and feel great and you can't beat the price!
So happy I bought 6 pairs.

Verified Buyer

Reviewed by jjgiglio from Orange County, Ca on Sunday, December 31, 2017

These are great basic, padded running socks.Thorlo is known for their guarantee, and their promise to avoid blisters. I appreciate that, as I walk miles a day, and occasionally go on long runs. Great padding at the heel and the ball of the foot where you need it!

Verified Buyer

Reviewed by Mojo from Texas on Saturday, December 9, 2017

I am very pleased with my purchase of Thorlo running socks. I can't find any flaws. The quality seems just as good as the ones I have paid $13 for.

Verified Buyer

Reviewed by Voyager5331 from FL on Friday, December 8, 2017

Works well enough. Got them on "sale", great price, but noticed they were marked "imperfect". Would have liked to know that before I bought them.

Verified Buyer

Reviewed by Running Mom from Virginia on Thursday, August 17, 2017

I have worn thor-lo running pads for 30 years and I was devastated when they were discontinued
Thrilled to find them hete!

Verified Buyer

Reviewed by SouthernSassy from Alabama on Tuesday, August 15, 2017

Avid runner turned avid walker, metatarsalgia crept its way into both of my feet...ouch!!

These socks offer great cushioning, and I will definitely be ordering more!


Verified Buyer

Reviewed by BargainDemon from New York on Saturday, April 29, 2017

I couldn't find it. I've been an avid walker for decades and this is the third style of Thorlos I've put to the test. They have all been expertly designed to suit their specific use and their yarns and production are first-rate. Their durability is exceptional - not one has worn through a toe or heel. I only wish I could afford to pay retail and not have to wait to snatch up left-overs!