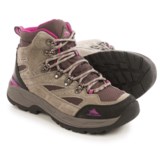 Closeouts. Wander the woods and head for the mountains in the stable, waterproof design of High Sierra's Trekker hiking boots. These well-cushioned light hikers have metal speed lacing and are reinforced at the toe and heel for extra durability.
Average Rating based on
10
reviews
4.400000
0
5
Reviewed by Connie from College Station on Wednesday, March 8, 2017

I bought this after my $3 thrift store boots fell apart during the first hiking trip! I've have been hiking about ~70 miles wearing this boots and I don't have any complaints. No blisters so far and very competitive price! I would buy again.

Verified Buyer

Reviewed by Bpgentry from Broken Arrow, Oklahoma on Tuesday, February 7, 2017

These we're much clunky for me and not very comfortable.

Reviewed by New Country Girl from Missouri on Friday, February 3, 2017

I was excited to receive these boots...good looking, but WAY too small...I ordered a size 10 since I wear a size 9.5 normally...I could barely fit my feet into the boots...they were marked size 10 in the boots...I read the reviews before ordering them...most people said they fit true to size...of course, I get the pair that is marked incorrectly...The Sierra Trading Post representative was very nice and was willing to work with me to find a pair that fit correctly...but this was the second hiking boot that I had delivered that did not fit well...sigh...I just sent them back and gave up...I am jealous of folks who can buy a pair of boots online and have them fit.

Verified Buyer

Reviewed by sharon from ct on Tuesday, January 10, 2017

i read other reviews and decided to buy a pair for myself size 10 and my daughter size 8. for the price you can't beat these. Lightweight , waterproof and very comfortable. We both like the wider toe box no pinching , great with a pair of wool sock.

Verified Buyer

Reviewed by Eleanor , snow shoer from Maine on Monday, January 9, 2017

I was very pleased with the fit and comfort of these boots from the start.No break in period was required. I bought them to use in my snow shoes . I wanted something light weight and waterproof. They are true to size and width. I had a toe joint replacement and have needed wider shoes with plenty of room in the toe box. These are PERFECT!!!Love Them. very comfortable to wear every day doing errands in the snow.

Verified Buyer

Reviewed by Working in Colorado from Colorado on Wednesday, December 28, 2016

I needed boots for general light hiking and working in the winter, when my trail running shoes were not enough. These looked cute on line, and I had some High Sierra products that I liked. I wore these the week we had a lot of snow, and I really like them. They are cute and one of the most comfortable light hikers I've worn. I have a narrow heel, and these stay put without slipping. I normally wear a size 8 and ordered an 8. I highly recommend this boot!

Verified Buyer

Reviewed by Kevin from Nevada on Wednesday, December 21, 2016

Great starter boot for the price.

Reviewed by deenibeeni from Sugarloaf on Wednesday, November 30, 2016

OK, these are just the cuuuutest hiking shoes I've ever seen. I've been buying the really expensive ones -- Vasque, Columbia, Asolo -- but I hike in steep rocky terrain pretty much every day & they last me one season. So I saw these & figured, I'll try them. Certainly can't beat the price, & if they get me through a season, why keep buying the expensive ones?? I got the 8-1/2 & thought hmmm. They are maybe a smidgen short? I compared with my old Vasques & the fit wasn't too different. Also I have very narrow feet (New balance 2A). I wear 8-1/2 in street shoes but a lot of times 9 works better for boots what with SofSoles & socks & my orthotics. I thought, if I get the 9s they are going to be too wide. But I ordered a 9 anyway & kept the 8-1/2 to compare. Wearing them side by side the 8-1/2 is perfect. The 9, just as I thought, are too big, the front of my foot is swimming around, & a lot of that is because of the increased width with 1/2 size bigger. So the 9 is going back & I'm keeping the 8-1/2s. LOVE these. Very comfortable, VERY good lacing system (even my Vasques have only the top lace hooks made out of metal, the second set (which gets maybe more stress than the top one) is fabric & I've had to devise a system to keep them from tearing, which works but has always been a PITA. Also these are NON-MARKING soles, which my Vasques weren't, so I was constantly scrubbing black streaks off the floor. I bought several pair of these High Sierras & plan to take out 1 pair a year. It will take at least that long to find another pair I like as well. SWEET, and an amazing deal.

Reviewed by Soul Seeker from AUSTIN on Wednesday, November 30, 2016

These shoes are not only functional and provide wonderful protection, they are so attractive and light!!!! I ordered my exact size and they are the perfect fit!!!! Dont let these pass you by!!!! Fabulous price point and they scream take me out to the trails!!!!

Verified Buyer

Reviewed by Rebe from Wisconsin on Tuesday, November 22, 2016

These are so cute and fit very well. I wear an 8.5 and ordered an 8.5. Fit was perfect. My foot felt like there was enough room to breathe - like I didn't even have a shoe on. The shoe felt flexible when I walked and not tight anywhere. I'm not sure how they will be outside or after wearing them for a long time since I just got them.