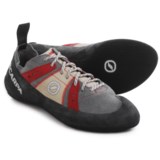 Closeouts. Scarpa's Helix climbing shoes are an intermediate shoe that's built for comfort. The padded tongue, traditional lacing and a relatively flat profile make it ideal for the gym and the crag.
Average Rating based on
12
reviews
3.666666
0
5
Verified Buyer

Reviewed by Manbir from Los Angeles on Tuesday, April 25, 2017

I purchased these shoes in an 8/8.5 US size. This is the size that I normally wear for my running shoes. Overall, i think these shoes are a half size smaller than what I should normally wear, but I just make sure I get out of my shoes every half hour when i'm at the climbing gym. I purchased the shoes on clearance, so I was limited by the sizes available, but I think this pair works for me. If you are in the market for these shoes, I would go up a half size from your normal shoes. The main problem for me is that my big toe on my right foot is a little smushed in the shoe, but i feel great when it comes to the left foot, and all the other toes on the right foot. Hopefully this helps!

Verified Buyer

Reviewed by Kermit the climber from Washington on Tuesday, April 11, 2017

I just started climbing (semi) seriously and I got a pair. A couple of my roommates told me it us a good starting shoe and I got it for a really good price.

Verified Buyer

Reviewed by Beg Rock Climber from California on Wednesday, March 29, 2017

Bought a new pair of these Scarpa Rock Climbing shoes, and chose a size 8, since my shoe size is about 8-8.5. The shoe appears to be quite tight on the 4th and 5th toes. I'm hoping it will stretch and loosen a bit after using.
Material seems good tho.

Reviewed by LD from Montana on Monday, March 27, 2017

Haven't gotten a chance to try these on real rock yet but very happy with their performance at the gym. I usually wear an 8.5M or 9.5-10 W and got the 41.5 because it was the only size they had. It is a TIGHT fit; I do have a wide toebox, but I ordered Scarpas because they're supposed to accommodate that. My toes have gotten a little bloody once or twice, it was better after I showered in them a few times and stuffed them to dry. They're getting a little more bearable as they continue to break in, and I think it's them stretching a bit more rather than my feet losing all feeling. The rubber is good, the stitching is solid, and you can't beat laceups for adjustability and performance in my opinion. The heel rubs also, but a little paper tape fixes that real quick. I'm happy with these and they were a great deal for $45 here on STP, but I caved and ordered some Sportivas in a 42 for days when I'm happy to sacrifice high performance for intact toenails.

Verified Buyer

Reviewed by Mae from Cutrona on Sunday, March 26, 2017

I'm a 7.5-8. I first ordered these in a 39, but they were too small. I returned and got the 39.5 but they were still too small, my toes wouldnot lay flat. I returned them and went to another store where I got a different style from the same brand in size 39.5, which fit.

Reviewed by Chuck from New Mexico on Tuesday, February 14, 2017

I have just returned from climbing in my brand new Scarpa Helix shoes at the local basalt crags. I was quite shocked, dismayed, and very disappointed that the rubber on the sole was incredibly slippery. Without exaggeration these are the slipperiest rock shoes I have ever worn and that includes a wide variety of shoes including those from before the era of sticky rubber. (I have been climbing for 50 years). What could possibly have gone wrong with these shoes? Did SCARPA use a batch of faulty rubber on their Helix shoes? Have the soles oxidized and lost their adhesive qualities? My previous pair of Helix shoes were disappointingly slippery too, but not as bad as these. After resoling they worked fine. Which brings up another point in their disfavor. The original soles on my first pair wore out at the toe after only a few uses. The sole at the toe is thin and steeply undercut beneath the rand which means that quickly you begin eroding the rand itself. Another problem with these shoes concerns the construction of the leather upper. It is not made from a single piece of leather (as it is e.g., in the Sportiva "Mythos" or the Evolv "Astroman"). Rather, the upper is made of three separate pieces of leather which are butted together along their edge and then sewn with a cross stitch using that pretty red thread. You can see this joint by zooming in on the photo of the shoes. In my previous pair of Helix this joint is beginning to separate. The red threads seem to be pulling through the soft leather. Why, you may ask did I purchase a second pair of these shoes? They're cheap, they fit well, they are well constructed ( if not well-designed) and they are pretty. I cannot recommend you buy these shoes for climbing, but they look very cool on the boulevard or dance floor. You might want to wear them to school. I'm donating my pair to the local climbing gym.

Verified Buyer

Reviewed by Veronica! from New Jersey on Saturday, February 4, 2017

This is my first pair of climbing shoes and I love them. It's a great fit with no extra space in the shoe. My only advise would be to break them in a bit as I took them from the box to climbing and I ended up with a few blisters on my toes.

Verified Buyer

Reviewed by Back country bandit from Colorado on Monday, January 2, 2017

What you would expect from an intermediate climbing shoe made by scarpa. I where a size 10 US I ended up fitting a 45.5 EU, the say that EU size is the same as 11 US. I like how the rubber on the back of the heel wraps farther into the inside, giving u more sticky surface to work with in the heel hooks.

Verified Buyer

Reviewed by arturo from North Carolina mountains on Friday, December 30, 2016

I have two other pairs of Scarpa this one was returned because of comport or lack of.

Verified Buyer

Reviewed by Rob the Climber from Montana on Wednesday, September 21, 2016

After wearing these shoes for quite some time, they have broken in a little bit but not as much as I hoped. I wear a size 12.5 and these wear a little bit small. Toes are very snug at the front so a half size up would have been better. Great grip when climbing and great aesthetic appeal. Love the design!