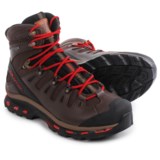 Closeouts. A backpacking boot with advanced trail-running shoe technology, Salomon's Quest Origins Gore-Tex® hiking boots are a nimble, waterproof breathable choice built for technical hiking. A Gore-Tex® membrane keeps your feet dry, and the full-grain leather and textile upper is durable, supportive and delivers a dose of retro style.
Average Rating based on
8
reviews
4.625000
0
5
Verified Buyer

Reviewed by kubotaman from ohio on Thursday, May 25, 2017

These seem to be a well made pair of boots. I've only had them a short time but they are quite comfortable and the soles have good grip. Good buy for the $$$.

Verified Buyer

Reviewed by Cal_Buyer from Calgary,AB on Thursday, May 25, 2017

Used to hiking about 20 km with over 700m elevation in rocky. Stand in the creak to help other hikers to get over with a single wood 'bridge'. It kept my feet dry for the 7 hours hking. Others got feet wet due to the snow melt on the top of their shoe - not this one.

Reviewed by Cctus Jon from Austin, TX on Thursday, May 18, 2017

This is full (hi-rise) gortex boot, with great foot and ankle support, and great out-of-the-box comfort. It has good deep treads, but its supple (maybe delicate?) mid-sole that emphasizes springiness over protection from rocky surfaces. The cushioned insert is likewise too thin to offer protection. I substituted some firm-bed inserts I had in the boots I was replacing and, viola, a perfect boot for day hikes on rough terrain.
Not an expedition boot, but excellent for light-to-moderate hiking.


Reviewed by Sunil from Wilmington on Wednesday, March 29, 2017

I ordered these about three months ago and usually I'm really happy with Solomon products, but these felt kind of strange when I put them on. At first they felt kind of lumpy in the arch area and they also felt about a 1/2 size too big. I figured they just needed to be broken in so I walked around in them for a few weeks and they still felt strange. so long story short, I replaced the insoles with a $14 pair of Dr Scholl's Heavy Duty Support insoles. They feel like a $500 dollar pair of boots now. The original insoles were not supporting my arches enough and my feet were not sitting forward enough. I'm very happy with them now.

I've read a few other reviews about Solomon shoes and I would tend to agree that Solomon has not been keeping up on their quality control, especial on the insoles. I have another pair of relatively new Solomon boots that suffer from the exact same thing- bad insoles.

I would recommend these if you don't mind swapping out the original insoles for new ones. The originals are paper thin and have no arch support. But they breathe well, keep my feet dry and are very comfortable after wearing them for hours.

Verified Buyer

Reviewed by PaOldGuy from Pa on Friday, January 20, 2017

Since they're made like sneakers, I thought maybe I could get by with the same size that I wear in dress shoes (the largest size STP had available). Not happening. Well, maybe with dress socks it could've worked, but hard to conceive of hiking in real thin socks. With heavy socks it would've taken at least a 1/2 size larger, if not a full size.

Verified Buyer

Reviewed by Jack from Michigan from Michigan on Thursday, January 19, 2017

I wanted an inexpensive pair of boots for walking the lava fields for an upcoming trip to Hawaii. My understanding is the lava fields can shred a pair of boots, so I definitely did not want to wear my beloved Alicos. I was about to order a pair of $40 hiking boots when I saw these Solomons on sale for $80. I respect the name Solomon, and I figured if they survived the lava fields I would have a decent pair of hiking boots whenever the Alicos were impractical. To my delight, these boots were a magnificent buy. They were extremely comfortable right out of the box and great looking. I typically replace the inner sole in all my boots, but not these. The inner sole is the most comfortable I have ever worn. The ankles do not rub, the toe box is wide enough to give the toes wriggle room, and the overall fit is spot on with no slippage in the heel. They weigh less than my Alicos, so I don't fell as if I am wearing "weight boots." I have been wearing these boots as my everyday shoes because they are that comfortable. My dilemma is do I want to risk these boots in the lava fields. I like them too much to have them shredded. I will probably spring for the $40 pair I originally intended to buy, and save these Solomons as another favorite pair of boots.

Reviewed by Jerry from Colorado on Tuesday, November 1, 2016

Started wearing the quest boot about a year ago. Love the boot, great support ,looks and comfort. Good grip on pine needles hiking in the Colorado Mtns. It's the top of the quest line, I thing the liner is better than the lower priced (originally at list) pair I have. Could feel it the moment I laced them up. And Sierra Trading Post is a first-rate group of folks, with great customer service!

Verified Buyer

Reviewed by rick from maine on Saturday, October 1, 2016

Bought these boots for my daughter. She loves them. They come somewhat broken in, look tough and are comfortable according to her.