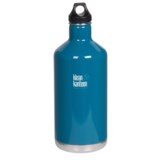 Closeouts. Sometimes a big thirst calls for a big bottle, and Klean Kanteen's vaccum-insulated water bottle is just what the doctor ordered -- 64 full ounces of capacity in a durable, sleek stainless steel with a fully insulated design to keep your liquids at their prime temps.
Average Rating based on
7
reviews
5.000000
0
5
Verified Buyer

Reviewed by Dogman from Northern California on Tuesday, November 22, 2016

Excellent bottle to keep iced beverages in on trips! Very efficient and excellent quality! Good price too!

Verified Buyer

Reviewed by Happy Minnesotan from MN on Sunday, October 30, 2016

I knew this would be huge - and it is. But, that is exactly what I wanted. I use it for an around-the-house water bottle to help me drink more water (and keep the cat from drinking it). Definitely do some kind of measuring so you know what you are getting.

Verified Buyer

Reviewed by Dogfriend from Sacramento, California on Monday, October 10, 2016

Kleen Kanteen makes great products but they're usually so expensive i pass them by. Great price here, and i ended up buying a second bottle after being so pleased with the first one. I like how water tastes from a steel container so much more than from a plastic one, and if i fill this with ice water in the morning, i still have cold water at the end of the day even after it's been sitting in a hot car for hours.

Verified Buyer

Reviewed by Ed from Broadview Heights on Wednesday, October 5, 2016

This bottle works great. Keeps things cold or hot, especially if you pre-cool or pre-warm them (put in cold or hot water before you put in what you want, to bring the bottle down/up to temperature). The one thing I wish it had was insulation in the cap. The cap works well and doesn't leak but where as the rest of the bottle is insulated, the cap is not. There isn't a ton of heat transfer through the cap but if it was insulated there would be even less. Love the size and loop cap, though.

Verified Buyer

Reviewed by TJ from PA on Tuesday, September 20, 2016

This bottle maintains beverages as cold as they were when it was filled. I have had occasions where ice cubes will still be frozen 28 hours later. The ice water may have lasted longer were it not for my thirst. My only regret is that I did not purchase one of these bottles the first time that I saw them on the website.

Verified Buyer

Reviewed by Rebecca from Portland, OR on Wednesday, August 17, 2016

As soon as it arrived we headed over to our local taphouse and got it filled with a local small barrel plum cider. It stayed cold the entire time we sat there having drinks and then we popped it in the fridge when we got home, and drank it a few days later. The cider stayed very fresh. We also used it to bring hot chocolate when we went out stargazing for the persieds meteor shower. Worked just as well to keep it hot and it was very easy to clean the chocolaty remnants out of the bottom when we got home. I have another vacuum sealed growler that I have trouble opening, but i didn't have any problems with this. I really like that Klean Kanteen has a loop in the lid. I never buy bottles without this because I just never know when I might want to clip it to my bag.

This is a great price. They sell this bottle at my local sports store for $50

Verified Buyer

Reviewed by Matt in the Mitten from Michigan on Wednesday, August 10, 2016

This is BIG. 64 ounces, but that is exactly the right size for me. I used to take two 32 oz nalgenes of water from home, to work each day. I was always battling the kids for the nalgenes. Now, there is no mistaking my bottle from theirs. The added benefit, is that my water always seems to be cool now, coming from the metal bottle. Make sure the large dimensions work for you, because this is definitely a BIG bottle.