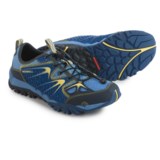 Closeouts. You've never had a pair of hiking shoes like the Merrell Capra Rapid water shoes; they help you stay comfortable when dodging streams on the trail. A grippy outsole, supportive and well-ventilated upper, and ESS arch shank keep you stable and striding no matter the terrain.
Average Rating based on
8
reviews
3.750000
0
5
Verified Buyer

Reviewed by Mary from Utah on Tuesday, August 22, 2017

Worse these for the first time and they exceeded my expectations. Solid support for rocky hikes, but flexible enough to feel comfortable on an easy walk!

Reviewed by Jess B from Tennessee on Sunday, May 7, 2017

I got these shoes bc Merrells have always fit my wide feet very well and since I live in Tennessee where we have lots of rocks and waterfalls (wet terrain), I was looking for a water-friendly hiking shoe. I have busted my butt in these shoes walking on wet rock more than I could've imagined possible! Not even particularly wet terrain, pretty basic "going for a walk in the woods" areas that I do regularly with no incident. They also destroyed my heels the first few wears but eventually loosened up.
They are not all bad so here are some pros- comfortable sole, lightweight, cute, no shoestrings are a big bonus. I would love to have a pair of breathable shoes just like this but with soles that are not terrifying to go hiking in.

Verified Buyer

Reviewed by PuddleSplasher PDX from Portland, OR on Monday, April 3, 2017

I purchased these shoes before a trip to Moab, UT where we planned to do some slot canyoneering. Well, it wasn't warm enough to wade, but they did prove to be comfortable for the running around and simple hiking I did. Unfortunately, one of the lacing pull ends popped off the second day I wore them, so I'll have to see if I can fix them.

Verified Buyer

Reviewed by Squimmer from Washington on Wednesday, March 8, 2017

I haven't used these to hike wet trails yet, only around town and to the gym. But I am a Merrell fan and these shoes don't disappoint with roominess in the forefoot, great support and stability. They're also great looking. I wasn't sure I would like the 'no-lace' laces, because the slide is a little hard on my thumbs, but I decided they're way better than having to stop and retie loose shoelaces.

Reviewed by MickeyMacGyver from California on Monday, October 24, 2016

I bought these water shoes to get in and out of water craft on the beach (specifically zodiac landings in the Galapagos.) I was impressed with how good they looked, In hindsight, I should have stayed with the not-so-pretty Tevas that are a lot more open, allowing sand to wash in and wash out. Sand comes into these and never leaves. Iin the humidity of the equator, these shoes refused to dry and so they smelled mildewy. It's not often that I have such a big fail, but these were clearly made for only the mildest stream crossings with no debris whatsoever.

Verified Buyer

Reviewed by soldiermom11 from Ohio on Monday, September 19, 2016

I like these shoes they are nice looking and they fit well. Just a little tight around the toes but i have long toes so maybe its my fault. I am keeping them. Need something to walk my dog in.

Verified Buyer

Reviewed by Lilyrose from Oregon on Wednesday, August 31, 2016

I am a fan of Merrell shoes and I love these. Good looking and they handle the rain and beaches here on the NW coast very well.

Verified Buyer

Reviewed by Whiteback from SC on Thursday, August 18, 2016

I want to love these shoes. They are well constructed and are great in the pool for water aerobics. BUT, while they have very grippy looking bottoms, they are dangerously slippery on wet surfaces. When I come out of the pool I have to be very careful on the pool deck and in the locker rooms. I wanted them for a rafting trip but I'm afraid they may be more dangerous than not on the rocks.