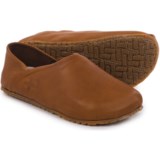 Closeouts. Designed to follow the natural shape of the foot, OTZ Shoes' goat leather espadrilles are already off to a comfortable start! Add in the contoured Cork Lite footbed that gradually molds to your foot's unique shape, and you've got yourself some seriously fantastic footwear.
Average Rating based on
13
reviews
4.692307
0
5
Verified Buyer

Reviewed by Jen from North Carolina on Monday, April 10, 2017

I have one pair of OTZ that are cloth...they remind me of Birkenstocks which I love because they are so comfortable. I really like these, too...they seem well made are comfy and are cute!

Verified Buyer

Reviewed by B from California on Friday, March 31, 2017

These are very comfortable and slip on easily. The style is very conservative.

Verified Buyer

Reviewed by angels2 from illinois on Wednesday, February 1, 2017

GREAT in every way. I wear a nine and a half and the 41 fits perfectly!!!!!!!

Verified Buyer

Reviewed by Mlok from Minnesota on Saturday, January 21, 2017

Width: I have normal to wide feet and they are wide enough and comfortable. Sizing: they do run small. I wear a women's 8.5 and initially got the 39 and that was too small so ordered another pair in size 40 and that fits great. Arches: I have high arches and I had little problem putting them on, however, at the top seam they hurt my foot for the first several days wearing them until my footbed molded more to my foot (imprinted a bit) and the top of the shoe leather stretched out. Now they are quite comfortable. Footbed: the cork footbed is similar to a Birkenstock, and they are very comfortable especially once they form to your feet. I have not walked in these for a super-long distance, so can't speak to that, but they are comfortable wearing at work and out and about.

Verified Buyer

Reviewed by Kathy from Ohio on Wednesday, January 18, 2017

Like wearing slippers. The ginger color is nice as it will go into the spring and summer seasons. Look best with no socks. The fit is a little wide for me as I have narrow feet and seem to bunch a bit.

Reviewed by Woody from Alpharetta GA on Saturday, January 7, 2017

Came across OTZ when looking for a Birkenstock equivalent in shoe form and was amazed at the price offered for these on STP. I bought two pairs - one in Goat Suede (orange) and one in red leather both in size 37. I'm a 36 B(regular width) in Birkenstocks and probably US size 6.5 - 7 in other ballet and slip-on shoes but with the reviews I went up a size. And I'm so soo glad I did! The 37 length fit perfect and probably could have been more perfect if it was another half a size larger to make room for socks if so inclined - I didn't try the 38's. The cork footbed is slightly narrower than a Birki regular width. Because of the soft leather/suede, you can see the slight outline of my toes at the end of the shoe.
I like the removable cork footbed and imagine they will get even more comfortable with wear. I can feel the arch support but it's not as pronounced as and an orthopedic insole or the Vionics or Chacos.
Here's where my word of caution comes in - while they are comfortable once I get my foot in - they are not that easy to slip on! If you have high instep - these would be impossible to put on. I have skinny feet and still had trouble and I can feel the leather edge pressing onto the top of my foot. Also there is a design difference between the two pairs - the leather pair had elastic sides that stretches - so helpful and is immediately comfortable to wear, but the suede pair doesn't and so I'm going to assume that the suede will stretch out over time.
I've read that you can make it into a slip-on by folding down the heel piece so I placed the footbed above the fold and they work fine but you would still need to use your hands to get the shoes on which completely defeats the purpose!
Long story short, these may not suit everyone even if you get the sizing right. The leather pair with the elastic is better designed than the suede. I'm keeping both, one to wear as slippers in hopes that the top suede will stretch, and only because of the great STP prices. I could even reuse the removable footbed as an insole for another shoe (haven't tried that yet). No way would I have paid full price for these as I have with Birkenstocks.

Verified Buyer

Reviewed by Mom of 4 Boys from Colorado on Monday, December 19, 2016

The soft kid leather is really nice on these shoes. The footbed is very supportive and comfortable. I find that thin socks work best.

Verified Buyer

Reviewed by MidMo Girl from Missouri on Friday, December 16, 2016

I ordered a pair of these in suede.They were so comfortable I decided I needed a pair of these in a more practical leather.These are nice because they have an elastic gore allowing for thicker socks.The toe box doesn't seem as roomy as the suede pair.My big toe seemed to hit the top of the shoe even though my foot fit the sole correctly but they being goatskin I figured they would stretch and they have.Overall these are really great shoes,Superhair comfortable.I ordered my usual size

Verified Buyer

Reviewed by Sarah from New Mexico on Tuesday, December 13, 2016

These are such great shoes - like a cross between Birkenstocks and Toms.

Verified Buyer

Reviewed by Bobbie from Montana on Monday, December 12, 2016

I love these shoes! They have great arch support and are comfortable.