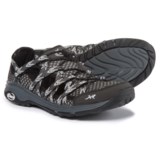 Closeouts. Chaco's OutCross Free water shoes transform wet creek crossings into a no-sweat event! You can count on the breathable, quick-drying upper to prevent waterlogged soles as you head back to dry land. A semi-collapsible heel means these can be worn as slip-ons, and the secure cordlock lacing creates a secure, customized fit no matter which way they're worn.
Average Rating based on
16
reviews
4.250000
0
5
Verified Buyer

Reviewed by lori from nevada on Saturday, May 5, 2018

I wore this hiking at Havasupai falls in Arizona. We hiked for 8 miles over rough terrain and water, these shoes were comfortable both in and out of water. The cordlock allows you to tighten the shoe to fit your foot. I am glad I bought them, worked great and lightweight too.

Verified Buyer

Reviewed by DD from Portland on Monday, April 23, 2018

Cute and colorful but no sole support at all. Returned for that reason only.

Verified Buyer

Reviewed by yoga lover from Pennsylvania on Wednesday, April 4, 2018

I love the look and style of Chacos, and STP has awesome prices. But the shoes seem to run really short, especially in the placement of the arch support. I tried hard to make myself keep them, but they were just uncomfortable. If you are a 101/2 these will fit. But true 11's beware!

Verified Buyer

Reviewed by Kayaking Shaye from GEORGIA on Thursday, March 22, 2018

Love these. I bought to replace some seen water shoes I had and I am very satisfied with the switch! I normally wear a 9.5, but went ahead and purchased a 10. I think I could of went with a 9.5 as I think they fit true to size. However, I love them and they're very comfortable.

Verified Buyer

Reviewed by Sheila from Virginia on Monday, August 7, 2017

Cute and comfortable

Verified Buyer

Reviewed by Kim from Minnesota on Wednesday, June 28, 2017

I water greenhouse and outdoor plants in the summer, which involves quite a bit of walking and getting wet, so I need a shoe I can wear for 8 hours at a time that doesn't rub my feet.

PROS: Stylish shoes with nice color scheme. Comfortable sole with enough support for me (I have somewhere between regular and high arches).

CONS: The fabric sides folded in and rubbed my foot. In order to tighten the straps that go around the ankle, I had to pull the cord so tight that the fabric around the toes wrinkled--then, somehow, the cording at the top & toe of the foot tightened while the straps around my ankle loosened (there is one pull tab to tighten/loosen all the cording/straps). There was also some rubbing around my pinky toe I found uncomfortable (potential blister area). Maybe if you have wider feet these will not be issues for you.

Verified Buyer

Reviewed by Kat R from WI on Thursday, June 8, 2017

I needed a water hiking shoe for a trip I was planning which involved crossing rivers (swiming and walking), wading thru ponds, and cave river water-to-rock climbing. This shoe was great for this purpose. I wore this shore around before hand and did notice the one spot that it rubbed, so I wrapped my pinky toe in sports tape and all was well. Water expressed well from the shoe. I never lost my footing either in water nor on land. Yes, there were slippery rocks, so I of course, moved with caution on those surfaces. The shoe dried quickly and all in all was great for what I needed it for! My long hike was about 8 hours, the rest of the time I wore it were generally for shorter hikes. Also, the water was fresh water, so I do not know how well it does in salt water.

Verified Buyer

Reviewed by Micha88 from Michigan on Wednesday, April 26, 2017

I am super impressed with this product! Hold up to the Chaco name. Unbelievably comfy exclamation point and wore them with no blisters exclamation point also love the coloring

Verified Buyer

Reviewed by Emarie from Idaho on Thursday, April 13, 2017

These shoes are exactly what I was looking for. The arch support is fantastic and the style of them is sporty and cute. One of the seams irritated my toes the first time I wore it, but not at all by the second day. I have extremely narrow feet, and these are just a teensy bit wide even after tightening everything up, but they stay on fine and it's certainly a better fit than a lot of other shoes I have. I am nothing but happy with these!

Verified Buyer

Reviewed by AMD from MN on Tuesday, April 11, 2017

I'm a BIG Chaco sandal fan & these are the first shoe style I've purchased... def did not disappoint! True to my usual size, comfortable support for walking ALL DAY & easy to slip on & off! Highly recommend.