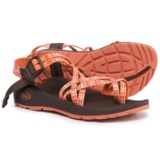 Closeouts. The fun crossover double-strap design of Chaco's ZX/2® Classic sport sandals is still done with the pull-through system that made Chaco famous for a perfect fit and all-day comfort. Plus, these colorful beauties strike a perfect balance between cushioning and support with a women-specific LUVSEAT® footbed. An updated ChacoGrip® lugged rubber outsole delivers even more wet-surface traction, too.
Average Rating based on
119
reviews
4.554621
0
5
Verified Buyer

Reviewed by roystonea from Florida on Wednesday, July 11, 2018

I love these shoes. It did take a week or so of fairly constant wear for my calluses to build up and for the toe loop to stop cutting off the circulation to my big toe, but now they just feel secure and comfortable. I love that I can wear them on hikes that get my feet wet (hello, Florida!). I have very narrow heels and was worried that the back strap would be too loose, but so far, the toe loop is keeping my foot stable.

Verified Buyer

Reviewed by One L from Amarillo on Tuesday, July 10, 2018

I love them! They are so comfortable and are easy to break in.

Verified Buyer

Reviewed by Jill from MA on Monday, July 9, 2018

I am hard to buy shoes for, and these are terrific because they are adjustable.


Verified Buyer

Reviewed by Jean from NC on Sunday, July 8, 2018

I found these Chacos true to size and comfortable for the most part. My one issue is probably the most common one -- the toe straps. No matter how I adjust the straps, they end up cutting into my toes. I have a pair of leather Chacos with a toe strap that goes straight across rather than at a diagonal like these, and that feels totally fine. The toe strap isn't such an issue that they become unwearable, but I think next time I'll get a pair without.

Verified Buyer

Reviewed by Slimjewel1 from Florida on Friday, July 6, 2018

I spent ages deliberating between Chacos and Tevas but really did not like the footbed of my last Teva's and ended up giving them away. But they were the cheaper ones. Anyway, these are nice. The toe loop on mine took some patience. I read online that they use something on the straps too keep them nice during shipping so to stick them in the washing machine. That worked, not sure whether that is manufacturer recommended. Anyway, they are now comfy and I forget I have them on. Just looked at my feet and realize I have shoes on laying on my couch. The release strap is great. They are like Docs or Birks, persevere at first then you get great shoes.

Verified Buyer

Reviewed by ErinW from Virginia on Friday, July 6, 2018

These shoes are perfect for summer adventures! They are so comfortable for long days out at festivals, concerts, taking the dog to the river, short nature jaunts, etc.!

The only complaint is the length of the adjustable strap. With small feet this strap was dragging on the ground once the straps were tightened to my liking. I was able to trim this off, burn it, and fold it over and sew...but it's extra work to make the product perfect. This wouldn't be an issue for people with average to taller or wider feet but something to be aware of if you have thin, narrow feet!

Verified Buyer

Reviewed by Sandra from North Carolina on Thursday, July 5, 2018

I bought these because i needed shoes to use when i went out fishing and also wanted shoes that were stylish enough to wear anywhere, so I got these and they're my favorite new shoes!! The first time I wore these was on a 7 hour fishing trip and my feet were surprisingly comfortable the whole day. 2 days later I wore them on a day trip in Washington DC where I walked 7 miles and my feet were tired, but they were nice to wear in the 95 degree weather and the next day my feet felt fine and there were no blisters. My favorite thing about the shoes is that they did not need to be broken in. I am already planning on buying another pair!

Verified Buyer

Reviewed by Amy from Maryland on Tuesday, July 3, 2018

I wanted so badly to like these shoes. But my feet didn't not fit right in them. The inner part near the back of the sandal was too intrusive to my heel and it didn't feel good. It even hurt at times. I'll try a different chaco sandal.

Verified Buyer

Reviewed by Vanessa from Texas on Monday, July 2, 2018

I bought these unsure of how I would like them and they were great! The price was much cheaper than any store that they are sold in! I finally gave in and was able to buy my daughter and myself some for the price for one pair in store elsewhere!

Verified Buyer

Reviewed by Ericka from Ohio on Thursday, June 28, 2018

When I first started looking at these chacos, I wasn't sure if my feet would feel comfortable in them. I know a lot of people with chacos, but I have flat feet and finding comfortable shoes is so hard. But after I received these in the mail, I wore them all day at an outdoor air show event in Dayton and then for he next two days after it was the only shoe I wore. They are so comfortable and they fit to my foot perfectly. I am usually a size 7.5-8 and I bought an 8 with a Medium width and they are perfect.