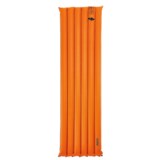 Closeouts. Perfect for overnight backpacking trips, Eureka's Singlis UL sleeping pad boasts an integrated hand pump for easy inflation and significant weight reduction. Polyurethane-coated nylon construction ensures durability and protection from damp surfaces while you sleep.
Average Rating based on
3
reviews
4.000000
0
5
Verified Buyer

Reviewed by MesaGuy from Costa Mesa, CA on Wednesday, May 3, 2017

It is light. I found it comfortable to sleep on. Filling it up with air however is not so great. It was noisy to sleep on, movement noises reverberated in the air tubes like an echo chamber and amplified sound. The hand operated memory foam inflation system was so-so. It moved air reasonably well with two hands, but was not operable with one hand and I was not successful with foot either. However, the design of the pad's chamber ends (the only point that air can move from chamber to chamber) was too "tight", and with natural folds, this was a huge resistance factor in moving air from the tube the pump chamber is located in, to other tubes. Sometimes you really had to push hard (too hard) to move air over. Inflation by mouth (which I did once) is not recommended at all. It fills easily that way. But in the morning, you can see all the condensation water inside the bag from your wet breath. Leave that in there for very long and the pad will rot. The best way to fill this bag, and others like it (but most others are easier to inflate) is to use a Themarest mini-pump battery operated filler (it 2.5 ounces). Those are $20-25, but worth it. I did not find the main brass valve to be high quality. It was brass threaded, plastic capped. The brass was to soft, and had two clear thread grabs (one wrong, one right). The wrong one leaked because the thread was only 1/2 way to full. The right one worked fine, but involved a second tightening. Ensuring the valve was properly closed involved far more work each time than should be necessary if the quality was better (but it did hold air), and it will probably last longer than a pure plastic valve seen on some other pads.

Verified Buyer

Reviewed by Anonymous from Ohio on Tuesday, March 7, 2017

If you're not in a hammock or don't want to be a "Bear Burrito", what ever your reason for not hanging from a tree at night... This is the answer. It has a pump built into it through a brilliant design involving memory foam and a bi-valve. It packs into a tiny little ball about the size of a 20oz bottle. The foam "self inflating" pads that are, as they say, 1" thick are like sleeping on the ground compared to this which is in the 2.75" thick range.

Verified Buyer

Reviewed by Luciano from Minas Gerais, Brazil on Tuesday, February 21, 2017

Great for summer. Lightweight and compact, it is not insulated.