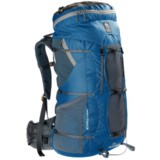 Closeouts. Don't be fooled by it's lightweight, easy-access design. Granite Gear's Nimbus Trace Access 85 backpack offers an outstanding combination of support, gear access and durability for multi-day hitches. The Maple-Core frame sheet features a custom-adjustable torso length, high-capacity stretch pockets allow plenty of cargo space, and the excellent load-to-hip weight transfer keeps you in the game on longer, expedition-style adventures.
Average Rating based on
4
reviews
4.750000
0
5
Verified Buyer

Reviewed by jimmy from Indiana on Thursday, April 12, 2018

I haven't had a chance to take this pack out for a trip yet, but it fits very well and is very well-constructed. I originally purchased the regular torso, but found that for me the short torso made a huge difference for the comfort of the fit. I've read some reviews that complain about all the compression straps, but I think all the straps make the pack even more functional. I also appreciate the detachable lid with hip straps and the very light weight of this pack (4lbs. 3oz.) compared to other similar packs (all at least a pound heavier).

Reviewed by Bayfield Bound from Bayfield on Friday, April 6, 2018

I think it would have been great it Sierra Trading Post shared the following: This pack comes with Medium Shoulder Straps and a medium hip belt. Sizing information can be found at Granite Gear's website. If you're considering this pack, I suggest you check it out. Granite Gear offers a component exchange program which enables you to return the straps & hip belt & swap for the correct size. You pay shipping to them, and the return cost is $9.00. Belt & straps must be in new condition- fair enough. In short you end up with a custom fit for an amazingly low price. I've owned many Granite gear packs & related gear & it's very well made stuff. How is it on the trail? No idea. Haven't received my swapped components yet. I'm looking forward to checking it out.

Verified Buyer

Reviewed by talusheaper from Cali on Saturday, August 19, 2017

I've been happily using the Granite Gear Blaze 60 liter backpack for three years now in the Sierras and our southwestern deserts for 2-3 days trips. I enjoy its lightweight coupled with comfort while carrying loads up to 30 lbs or so. When I needed a larger pack for longer trips, I looked at many different packs, but I eventually came back to Granite Gear and bought the Nimbus, 85 liter. After a 4-day trip back to the Vidette Lakes in the Sierras to climb a few peaks, I was impressed w/ the Nimbus for the same reasons I like the Blaze:
--incredibly comfortable while weighing less nearly all packs that I looked at. It has a wooden support system that helps to stabilize and carry the load on my back and hips. I tried to use lighter packs w/o this feature, but I really need some sort of frame support to carry 30-40 lbs.
--I enjoyed the outside pockets and top, removable hip-pack lid pocket, which is more than the Blaze offers.
--lots of straps that can be daunting at first, but they are all important and helpful for loading and carrying the weight.
I'm an oz counter since starting my hikes on the PCT. I know there are lighter packs out there, but if you need a pack that offers a decent, light-weight frame to help carry weight, then the Nimbus is a fine option that I recommend.


Reviewed by Jimmy from Jackson, NH on Saturday, June 10, 2017

I've had a smaller Granite Gear pack for a few years now. Last fall, after a particular heavy carry out, I knew I needed to replace my old REI 90 liter pack. Granite Gear was the only pack I looked at. My work requires me to carry heavy loads over many miles. This pack feels great, fits everything, and has many nice features.