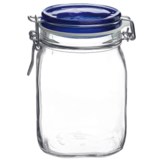 Overstock. The cerulean lid adds beautiful charm to this versatile Bormioli Rocco Fido jar, wonderful for storing or displaying dry goods like rice, beans and pasta.
Average Rating based on
7
reviews
5.000000
0
5
Verified Buyer

Reviewed by Zero Plastic from Florida on Tuesday, November 14, 2017

I decided to organize my pantry and store a lot of items in these jars so I bought quite a few sizes from 0.75 L to 2L. Since I live in sw FL, keeping stored cereal, flour, pasta, etc. dry is essential. Even though the jars are heavy, I like the way they function and their look with the blue glass tops. I'm experimenting with new products as I move away from plastic of all types.
Still working on this project and may order more Fido jars.

Verified Buyer

Reviewed by AIR from Down East Maine on Saturday, November 11, 2017

priced these on Amazon,,were almost 10x STP price

Verified Buyer

Reviewed by luvsplants from Idaho on Friday, October 27, 2017

I have more than a dozen Fido jars in different sizes. I use them to make sauerkraut and other ferments. The 1 liter size is the smallest that I use. It goes straight into the refrigerator when fermentation is done. The blue lids are beautiful.

Verified Buyer

Reviewed by 5' 10" Shopper from Virginia on Friday, December 2, 2016

I purchased 2 of this size and can't wait to start using them. It is difficult to find all glass jars with a quality seal. The blue glass is lovely.

Verified Buyer

Reviewed by Nancy from Colorado on Friday, November 11, 2016

I really like this container. Not only is it very pretty but it is very well made in Italy not China. I ordered one made in China a while back and it was just a piece of junk that didn't even seal. I ordered three sizes and they look fantastic on an open shelf filled with dried fruits and nuts in my kitchen. Note the glass can go in the dishwasher but the metal can not.

Verified Buyer

Reviewed by sarah from seattle on Saturday, October 29, 2016

I was hoping it was round, and not square (easier to clean). Well, it is rounded square corners - so not too time consuming to clean. Great quality at an excellent price. Packaged very well all 3 I ordered arrived safely!

Verified Buyer

Reviewed by luvsplants from Idaho on Sunday, October 9, 2016

I bought several of these. They work great for small batches of fermentation. The seal works like an airlock allowing CO2 to escape but keeping oxygen out. Sauerkraut made in fido jars is delicious and no issues with mold.