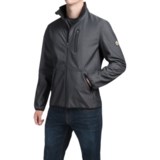 Closeouts. Celebrating the centennial anniversary of the National Park Service, the Pendleton National Parks Cascade soft shell jacket keeps you warm and protected for roadside visits, off-road excursions and backwoods adventures. The sleek and sporty style of the smooth, triple-layer fleece fabric delivers a soft, low-nap interior.
Average Rating based on
7
reviews
3.428571
0
5
Verified Buyer

Reviewed by jeffo from connecticut on Friday, February 17, 2017

I'm 6'1 and 190 lbs and it's a little loose on me but the arms couldn't go shorter. Great looking and well made and at $20....great deal.

Verified Buyer

Reviewed by Woodsy from Colorado on Sunday, February 12, 2017

You will never find a nicer looking jacket. Having said this, a Large is like a Medium, and the sleeves run short. My husband was disappointed, as he loved the look and construction.

Verified Buyer

Reviewed by NMBob from New Mexico on Friday, February 3, 2017

The appearance of the jacket and the materials with which it is made are excellent. And, if you never have reason to raise your arms above waist level, it is functional. If you sometimes need put on a hat or place a piece of gum in your mouth, though, you've got a problem. The cut of the jacket through the chest and arms binds all upward movement, lifting the body and retracting the sleeves - a lot. Exceptionally unusual product for Pendleton.

Verified Buyer

Reviewed by Adam from Placerville, CA on Thursday, February 2, 2017

This jacket was made of the right stuff, the material is great and is very waterproof. All of the zippers and seams feel very durable and the jacket seems like it would hold up for a long time. I love Pendleton quality goods and this jacket had subtle branding accents that I liked a lot, mostly that it is part of the national parks line. I bought it to wear over collar and tie for casual days at work as a somewhat fitted jacket, or just to wear with jeans and a crew shirt. I have a nice Patagucci fitted polartec wind shell that is very similar and I thought this jacket would be a perfect supplement to that so I don't wear them out as quickly.

While the material was awesome and the zippers, cuffs, and design idea seem like great quality for the price, the shape and fitment of this jacket was very VERY poorly executed. The sleeves were shaped and fitted in a way that wont allow you to raise your arms above mid chest without major bunching of material at the shoulder restricting all but the most minor arm movement. The sewing wasn't necessarily the problem but that the fabric was cut and shaped all wrong prior to piecing the arms to the chest. The arms are sewn very low in the armpit and if you can manage to raise your arms above your chest in front of you the bottom of the sleeves restrict upward movement and take up 3 inches or more of sleeve length with your arms outstretched. There is a lot of extra material below the chest too in the belly area. I am a slender build and wear a medium in everything and I could probably gain 50lbs or more in my belly and still fit in this jacket and I am 5'9 150lbs.

I wanted to keep this jacket so badly and even at around $30 it is just unusable. This is totally a case of doing a really bad job on design fitment, material quality, hardware, design and brand idea else was great. I can understand that Pendleton would want to corner a more affordable clothing market but this China-made jacket falls very short on fitment alone, enough to render this thing completely useless. Pretty ironic that a classy American company like Pendleton would outsource a National Parks line to China only for it to turn out terribly. A jacket that doesn't fit right is useless no matter what its made of.

Verified Buyer

Reviewed by Old German Lady from Boirng on Tuesday, January 31, 2017

Nice spring, cool summer or fall coat. Great Pendleton quality and a fabulous price.

Verified Buyer

Reviewed by mikep757 from Omaha on Monday, December 26, 2016

I found this coat to be very stiff. I didn't like it at all and returned it.

Verified Buyer

Reviewed by Old German Lady from Oregon on Thursday, December 1, 2016

I purchased one of these jackets from the Pendleton Store and paid full price when they first came out. When I saw that STP had them I was thrilled and purchased one for my mom and dad for their Christmas gift. They are great quality, true to size and a great light coat. These are not heavy but a coat that you can throw on over a fleece in the winter to stay dry or a great jacket for spring or fall.