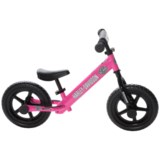 Closeouts. The Strider Harley balance bike features a lowered seat, a no-pedal design and Harley-Davidson graphics, allowing your child to focus on the fundamentals of riding without the distractions of pedals or training wheels.
Average Rating based on
6
reviews
5.000000
0
5
Verified Buyer

Reviewed by Sherri from Eugene, Oregon on Thursday, April 6, 2017

My 2 1/2 YO picked this up very quickly. She has a lot of fun keeping up with the older kids. I am sold on Strider balance bike!

Verified Buyer

Reviewed by HK from HK on Thursday, April 6, 2017

nice bike with a very good price

Verified Buyer

Reviewed by Bill from Maryland on Tuesday, April 4, 2017

Strider Sport 12, what more is there to say? There's a reason that USABMX uses these bikes as their standard for toddler and preschool races, and it's not just sponsorship. These bikes are build solid, adjustable enough to grow with your kid, and SAFE! My son has been riding one since age 1+ and he's now barely 4 and pedaling on a 12" bike, no training wheels. We just started our daugher, who showed less interest than our son, at age 2 1/2 and she's already showing progress and promise. Both kids ride close to two miles every evening, jumping curbs, etc. We even race them against other Striders at the local BMX track. Strider Bikes Rule!!!

Verified Buyer

Reviewed by stpfan from AZ/WI on Saturday, March 11, 2017

The engineering and teaching / learning techniques this bike delivers is simply fantastic. Teaches balance and coordination in a unique way different than other bikes and so much better than a tricycle. Most of the tricycles are built of a lot of plastic and this bike is the real deal, much sturdier, better materials, the design engineering is impressive (family of graduate engineers here). Our little one loves this bike, so do her parents. Watch the video online by the inventor of this little machine, very impressive. The price is half of what you'd pay else where. Made by Harley Davidson, it is quality throughout.

Reviewed by stpfan from AZ on Saturday, February 25, 2017

This is a fantastic product. Sells for at least twice this price everywhere else online. Great gift for your kids and grandchildren. Thrilled to find this from STP for nearly half the price of other sellers.

Verified Buyer

Reviewed by Andy D from Utah on Saturday, December 31, 2016

Our daughter loves this thing and she can't even touch the ground yet!