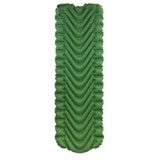 Closeouts. Unwind under the stars with Klymit's Static V inflatable sleeping pad. Just 10-15 breaths inflates it to full, and the body-mapped V-chamber design limits air movement to help maintain warmth, comfort and performance.
Average Rating based on
21
reviews
4.428571
0
5
Verified Buyer

Reviewed by Rach from Idaho on Tuesday, August 22, 2017

I never tried any other camping pads in the past, but this sure beats the ground. Not too hard to slide back into their stuff sacks if you fold it so the green, shinier side is facing out. If you fold them up with the black side facing out, they never seem to slide into the stuff sack.

Verified Buyer

Reviewed by Young from Fullerton, Ca on Tuesday, August 8, 2017

I bought it for my year around boy scout camping. It feels great and easy to store and carry. It takes about 20 blows instead of 15 blows the advertisement stated. The insulation rating is low, but I have no problem with it since I have a down sleeping bag.

Verified Buyer

Reviewed by Random Scribbles from Boston, MA on Tuesday, August 1, 2017

The pad was terrific in that it folds up so small (to get the air out, roll it up like a tube of toothpaste), but I have to say it took me close to 30 breaths to blow up. Was pretty comfy.

Verified Buyer

Reviewed by Neddie from Colorado on Monday, July 31, 2017

It was harder to blow up than stated. I didn't think I was going to get enough air. It was comfortable once I got it blown up. Packs really small, but take same time to get it back that small

Verified Buyer

Reviewed by John from Nevada on Saturday, July 22, 2017

Hello,
Although the pad is comfortable, It takes many more than 10-15 breaths to inflate (more like 30-35). After deflating the pad, its is nearly impossible to get it back into the stuff sack. Beware.

Verified Buyer

Reviewed by PicklesandBones from Grand Rapids, MI on Monday, July 17, 2017

Nice pad, but keep in mind there is no insulation or padding other than air support. You get the full support of the pad when laying down on it, if you sit, stand, or kneel on it the air support will not be there (something to consider in areas where you need to be insulated from the ground). It packs light and small and is of nice quality, it is worth the price and is comfortable (keeping in mind you are still sleeping on the ground). It fits well inside a backpack and easily inflates and deflates (Klymit has a good video to show how to easily deflate the pad).

Verified Buyer

Reviewed by Jessieblue from Northern California on Monday, July 17, 2017

Great pad. Comfortable and easy to pack.
Inflates with a few breaths

Verified Buyer

Reviewed by devinkirby from Minnesota on Saturday, July 15, 2017

This is a great lightweight & durable pad, and Klymit has an amazing customer service team if anything were to go wrong. Packs extremely small to about the size of a soda can, with a solid stuff sack to keep it that small in your pack. The only drawback is the amount of breaths it takes to fill, but that's worth the trade-off in my opinion as with any kind of self-inflation you end up with a bigger packed size and usually more weight. My go-to pad for backpacking!

Verified Buyer

Reviewed by matsuwesty from Florida on Saturday, May 27, 2017

This is a great sleeping pad on it's own. The price I got it for for make it even better. It folds relatively small, and isn't a heavy pad to carry. The out covering seems to hold up well and it isn't as noisy to sleep on as some pads. The design of the air chambers keeps you in the center of the pad, whereas some pad designs migrate you to the edges every time you move. I highly recommend this pad for anyone looking for one.

Verified Buyer

Reviewed by sagebird from wyoming on Thursday, May 25, 2017

inflated well. ok to lie on - maybe if you are a big person would not work so well. Relatively easy to get back in small stuff bag rolled.