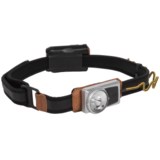 Closeouts. The UCO Comfort fit headlamp is streamlined, lightweight and impressively bright. The adjustable neoprene strap is soft against the head, and an infinitely adjustable dial controls the beam.
Average Rating based on
14
reviews
4.642857
0
5
Verified Buyer

Reviewed by Horselover from Northern Calif. on Sunday, March 25, 2018

Very easy to operate; adjustable light and VERY comfortable ! We've had other brands, but Uco is the best we've had so far. I would highly recommend this headlamp. Great for hands free lighting doing MANY things!

Verified Buyer

Reviewed by Heidi from Utah on Sunday, February 4, 2018

It worked great to get our skis on. We didn't need it while skiing, but again when we packed up. We'll use it during summer camping. Not sure if there is enough light for night hiking, but to get set up or run to the bsthroom, itbis sufficient.

Verified Buyer

Reviewed by DresserGal from Fayetteville, AR on Sunday, January 28, 2018

I use this for backstage work at theater shows, wardrobe department, dressing actors. Unlike some other head lamps I have tried, this one is well-designed for balance, does not give me a headache or tire out my neck. I wear my hair up in a bun and the battery pack tucks neatly under it. The neoprene/velcro strap stays secure without binding or stretching out. I can run with this on and it doesn't bounce around. I don't feel a need to take it on and off, so I have worn it comfortably for 3-4 hours at a time, forgetting that I have it on. The range of brightness and the red light setting covers every application I need. The unarticulated tilt is a nice feature as well. I have on occasion accidentally left it on a dim setting -- as another comment noted, it does not have a terribly distinct "click" when it is off. But this is not a big deal, I can always turn all the way to red, then back off one click to find off, or check quickly with a hand in front of light to see if it's on. Battery life seems nice and long, and I will switch to rechargeables when the provided alkalines expire. I'm not dragging it around in rough back country situations so it doesn't need to be extremely rugged for me. I expect to get many seasons' use out of it, and have received compliments on how it looks. Thumbs up here.

Verified Buyer

Reviewed by inua from Massachusetts on Wednesday, January 24, 2018

This old school style of the full battery pack set to the rear, completely works. That balance is back! No more sliding down your forehead and constant adjusting. It's not exactly sleek, but I love how you can "dial" in the proper light you need, and not rely on two or three presets. The red light is fantastic- why other headlamps don't have that option, is beyond me. The light this little lamp throws is absolutely brilliant on its highest setting.
Oh and the band- so, so comfy. I have two headlamps now- looking for a third. You won't be disappointed.

Verified Buyer

Reviewed by Karen from Colorado on Saturday, January 6, 2018

Needed a light for evening Nordic coaching. This light is balanced, easy to adjust even with gloves on and I like that the band is non-stretch as it stays in place with a hat on.

Verified Buyer

Reviewed by AZ_Hiker from Flagstaff on Wednesday, December 20, 2017

I gave this to my mother-in-law for xmas. She saw me wearing a headlamp last summer and mentioned that she could use one. Ding -- the light went on over my head! The strap is comfortable and easily adjusted, the light is bright enough for her needs and the beam can be dialed in with ease. She loves it, and said I was "sweet to have thought of her!" That's a major compliment in my book. You can hardly go wrong with this, either as a gift or for those unexpected emergency plumbing expeditions.

Reviewed by Abby from AL on Saturday, November 4, 2017

It was comfortable to wear, and easy to adjust the light. I really appreciate that the light can be adjusted with the dial instead of having just 1 or 2 brightness settings like some lamps. Hoping to get a lot of use out of it.

Verified Buyer

Reviewed by Kendrick Camps from Minnesota on Tuesday, October 10, 2017

The materials used on the head band are soft and forgiving which makes it very comfortable to wear. Also. with the battery pack located on the back, it balances out well. The headlamp is made out of plastic so you have to be careful with it. But, it's worth the risk.

Verified Buyer

Reviewed by Drake from Alaska on Monday, October 9, 2017

Lights the dark well

Verified Buyer

Reviewed by Texas clay artist from Texas on Wednesday, January 25, 2017

I bought 2 of these for stocking stuffers. After using one Christmas night to walk across our country property I bought 2 more to keep. I saw things on my night time walk I had never seen before, thousands of bright green eyes reflecting in the damp grass that on closer inspection were spiders! The lamp is also very comfortable because the batteries are on the back of the band not in the lamp itself so the weight is more distributed. I don't think the band will stretch or come apart as easily as the cheaper headlamps.