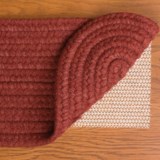 Overstock fabric. Don't cover up your beautiful wooden stairs! Instead, use Colonial Mills' stair tread installation kit to safely secure individual stair rugs in a matter of minutes with a double-faced adhesive design.
Average Rating based on
45
reviews
4.511111
0
5
Reviewed by T-racer from Seattle, WA on Friday, November 18, 2016

It's stickier than shelf liner or carpet stuff I bought for an area rug, but it's not adhesive that would leave any stickum whatsoever. And the stair treads are totally secure. Perfect.

Verified Buyer

Reviewed by vaccinia from Utah on Saturday, March 7, 2015

This stuff is awesome! Needed to put some carpet stair treads on my oak stairs since my dog was slipping. Didn't want to nail into the wood or mess up the stairs with adhesive that I would need to take off with solvents later. This stuff is a sticky mesh that really holds treads in place from side forces but the carpet can be lifted straight up easily for repositioning. I was surprised at how well this product worked, If you want a semi-permanent method of afixing stair treads, this is the way to go!

Verified Buyer

Reviewed by Satisfied Shopper from PA on Thursday, October 23, 2014

I bought this kit for our new stair treads and we were very pleased! The product was easy to use. The installation was simple. The price was fantastic. We had just enough for 12 treads which were 8" x 28."

Verified Buyer

Reviewed by Terry from Pennsylvania from Philadelphia on Wednesday, June 25, 2014

We used the stair tread kit with braided stair treads and it has really made a difference.
The stairs that we put them on lead to a laundry room and i think stair treads are important for safety on stairs. I really like that the backing is removable and so easy to apply. Little touches like this make a room much more cozy.

Reviewed by JP from Vermont on Monday, January 27, 2014

Although there were no instructions, the roll of adhesive was the correct width of the treads and when cut to the precise oval of the treads, resulted in a safe, easy system. The only issue for those without good fingernails is getting the protective backing off!



Reviewed by CJF from Pennsylvania on Wednesday, November 6, 2013

Excellent product. Used it immediately and found that it was true to its advertised effectiveness. It adheres to the stairs but is easily removed to re-situate for exact location wanted. When the carpet stair treads are applied, they hold in place well with no movement at all once in place. But again, easily removed to re-situate or centering. Also was thrilled with Sierra's price for this item, which encouraged my purchase.

Reviewed by SmootZero from New Jersey on Wednesday, October 9, 2013

There were no instructions, but I figured it out fairly quickly. They seem to be holding fine. Had them in a few weeks and the treads have not moved at all even though they're are 5 dogs and a husband (and wife) going up and down the stairs frequently. I would give 5 stars except the instructions were missing which threw me for a loop at first, but I figured it out soon enough. Works great so far

Reviewed by Mainiac from Portland, ME on Sunday, September 29, 2013

Somebody calculated 13 stair treads by 28" and came up with 364 inches in the product description, but that's not correct. The packaging says it's 28 feet, which is 336 inches, if you care. The Colonial Mills oval carpet tiles are 28" long, but since they're oval, you don't cut this the full length, or the corners would peek out. The instructions say to cut them to 25.5 inches, and enough for 13 treads, which would be 331.5 inches total.

My adhesive strip was in two pieces, which I don't think functionally would be a problem (no reason you can't have a seam in the adhesive. But it was fouled at the inner core of the roll, and there's no way there was a total of 336 inches there. I cut mine to 25 inches wide, but would have had enough only for 12 and a half treads. Fortunately, I only needed 11, so if one of us was gonna come up short, it turns out lucky that it was me. (I assume I just got a roll with a manufacturing defect.)

So anyway, I cut my 11 pieces of 25-inch adhesive and installed as directed. And this stuff works great. The treads are secure, but also, while I was installing if I found a tread was off, it was easy to reposition.

So I'm happy in the end with the product, but I did get a dud roll. (And the Sierra listing is wrong; it's not 364 inches long.)

Reviewed by mainer from maine on Tuesday, April 2, 2013

Comes in a roll, and looks like it will be easy to apply.

Verified Buyer

Reviewed by HMH from Wisconsin on Thursday, December 13, 2012

I have only had this down for 10 days but it does seem to be doing a great job at keeping the stair treads held securely to the stairs. Very impressed with how easy it was to cut and lay. would of given it 5 stars if I knew a year from now if the tape would still be holding the stair treads.