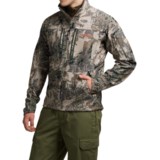 Closeouts. Sitka's 90% jacket represents the idea that launched the company. This highly breathable, wind-resistant, stretchy soft shell is body-mapped with a grid fleece backing so it excels in 90 percent of mountain conditions.
Average Rating based on
10
reviews
4.100000
0
5
Verified Buyer

Reviewed by Flykaster from SE WASHINGTON STATE on Friday, August 25, 2017

This jacket fits me in a size large very well. I'm 5'9" and athletically built at 180 lbs. There remains space for light to medium layering. The build quality of the jacket is what you would expect from a premium brand maker and should survive rugged wear. Good pocket capacity and locations. This is a fine light weight jacket.
Be advised this jacket is not wind proof and is intended, I believe, to breathe and ventilate during periods of exertion. I've yet to test it but can't help thinking pit zips would be beneficial. I might also appreciate wrist tighteners and some type of scent control technology.
I'm rating 3 stars primarily due to cost concerns weighed against comparable products. At normal retail I would not buy. Sierra's price is why I bought it and decided to keep it.

Reviewed by Mark Hansen from Christchurch, New Zealand on Thursday, August 10, 2017

Wouldn't call it a jacket, but that's a sitka issue. Comfy jumper / jersey. I'm 5' 11" and 80kg and the Large allows enough room for a shirt or two underneath if the weather requires it, but it's not too bulky to hinder movement. sleeves are good and come down just onto the hands past the wrists. the neck line is comfy and not too annoying when zipped right up, as many jackets can be. be ideal if it was windproof, but that's another product in the sitka range.

Verified Buyer

Reviewed by Jordan the Lab guy from Tennessee on Tuesday, January 10, 2017

First thing, I ordered this jacket 3 times from STP and got the Kelvin Lite vest twice. After several phone calls and lots of shipping back and forth, I decided that the 3rd time is the charm and tried it again, called them to make sure they got it right and it came just after xmas for me to try out. To the reviewwwwwwww---------->>>>>>>>>>>>>>>
This thing is not a big, thick, bulky jacket. It's actually very thin, but is quite warm for its size. I disagree that it's what you'll wear 90% of the time, but I can see how it would be very useful. I used it toward end of season to test its durability and found it to be very good. I layered with other sitka stuff as well as other brands for the ~20F temps we were having hear in TN at the end of deer season. I will review the pants as well and I can tell you that if I had to pick which I'd rather have, I'd go with the pants, but I do like this jacket and think that it will serve a useful niche in my hunting wardrobe. In my opinion, if you were to wear this jacket with just a t-shirt on underneath, the ideal temp for it would be around ~45F with light wind.

Verified Buyer

Reviewed by Luke from Idaho on Tuesday, December 27, 2016

Good material, excellent wind resistance. This is a good jacket for early morning archery hunts in September

Verified Buyer

Reviewed by JakeJayhawk from Kansas on Sunday, December 25, 2016

Great wind resistant, light weight jacket I use for cold weather upland bird hunting in the Midwest. Use orange bird vest over this jacket with mid weight base layer and I never get cold. Great price on Sale from STP!

Reviewed by Mystro from Central Pa. on Tuesday, December 20, 2016

This jacket is very light weight but surprisingly warm. Ideal for both hunting in the fall but could be used with the vest underneath for colder weather. The Sitka layering system works and is well worth the money. Build quality is top shelf.

Reviewed by Travis from East Tennessee on Monday, December 19, 2016

Just as I expected, and shipping was very fast. Over the past two years I have completely changed out my hunting wardrobe to Sitka thanks to STP. This jacket is great if used for its intended purpose, and that is high output spot & stalk style hunting. This jacket is not necessarily designed for tree stand hunting. That being said, I could pair this jacket with a Merino base layer and Traverse Zip-T for comfortable sits down to around 45 degrees, or much colder for high physical output hunting scenarios. However, for typical tree stand hunting, the Sitka Whitetail line is generally a much better fit. Highly recommended for the Western hunter looking for quality gear that will last for many years. As for sizing, I am 5'-8" and 170 lbs (39" chest) and the sizing is spot on, however I am used to wearing clothing with an athletic fit.

Verified Buyer

Reviewed by Radar from WV on Friday, December 16, 2016

I wanted to like this jacket. The medium was too tight. The large was too big. The sleeve length is extra long so thats a plus. The collar comes up to your ears! If you like stand up collars then you'll look like dracula with this one. It has a drawcord hem so that's a plus. The length of jacket seems exceptionally short. Last is the weight of this jacket, it is extremely light. When you spend this much $ on a jacket you are paying for the Sitka name and optifade pattern, not the insulation qualities. Sorry Sitka. I tried

Verified Buyer

Reviewed by Dawnathon from Ky on Wednesday, December 14, 2016

This jacket is amazing. Sitka's attention to detail is unbelievable. This jacket is light but will keep your body temp perfect if you stay moving. Even on 20 degree mornings with just a light base layer underneath. They refulate your body heat perfectly. The range of unrestricted movement is unbelievable. You can't go wrong with this jacket.

Reviewed by Jordan the Lab guy from Tennessee on Tuesday, December 13, 2016

Would love to review this product, but unfortunately, I've been sent the Kelvin Lite Vest twice after ordering this. I wonder if anyone else is having this problem.