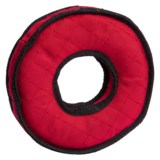 Closeouts. If every new toy you bring home is destroyed within minutes, BeGood's Mega Ruffs Tire dog toy will keep him busy for a long while. It's built with ultra-tough nylon, triple-stitched seams and tightly packed stuffing to prevent being ripped apart.
Average Rating based on
3
reviews
4.000000
0
5
Reviewed by DIYfam from Newtown Square, PA on Friday, January 20, 2017

So I actually bought this to play indoor fetch. I do not recommend you try this unless you have a safe house, both safe for the pet, you, and your furniture. In our case, we pet-proof the whole house, and do most decorating around the animals in the first place, so it works with our "earthquake" 1-year-old Lab, and 2-year-old Shepherd. Before our former generation of dog passed on, we often wanted something like this for them to use as a more gentle and easy game indoors. I wish I had had it then for them, but with the new dog generation it serves more for the purpose of rainy days when they have too much energy, and also my husband and I have both been injured and on crutches recently, so this allows us to create play indoors without things that will bounce high, or be too hard on our floors, or more likely to break something. In addition to a shorter, more low-key fetch, we also play a game where we make them "sit" and wait in one room while we take the toy and hide it in the next room where they can't see. We then call them and they love playing hide-and-seek to find it. So this totally fits our purposes for this toy. I read a lot of reviews on the big A, complaining about it as a water toy, but this was not our intended use so I can't speak to that. Also, we do not let these kinds of toys sit around to be chewed on, so they won't get all torn up. We give the dogs natural hooves for that and there is no excess chewing issue. Also, we give them crazy attention and that is a BIG factor in why dogs chew. They just want your time and undivided attention (like kids).

Reviewed by Kimalso from Wisconsin on Saturday, January 7, 2017

Our 3 yr old Chessie is totally obsessed with this toy. She can't be left alone with it or she will finish its destruction. Only plays with it as a special treat when her brother comes home from college.
Buying 2 more to keep up the tradition. Bought it at TJM a couple of years ago so happy to have found more

Reviewed by kittyo from Massachusetts on Wednesday, December 21, 2016

My dog had this unstuffed in 5 minutes. shredded in 20. Gave it 3 stars only because I have only found one toy that she hasn't been able to destroy. Some take a couple of minutes, some take days but she can shred almost anything. doesn't pass the Luna test but not much does.