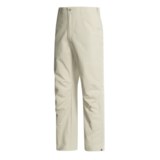 Closeouts. Global Traveler pants from Royal Robbins are lightweight and easy-wearing for all your travels. Breathable and quick-drying nylon exterior is treated with a water-repellent fabric protector to resist stains and harmful UV rays.
Average Rating based on
77
reviews
4.207792
0
5
Reviewed by redfish from Florida on Friday, April 7, 2017

I always take a 32/32 for Royal Robbins, and so ordered that size. This measured at around a 29 or 30" for the waist, and was visibly very different than other Royal Robbins sizes that I've ordered. Not sure if this is a systematic error, as most others have suggested the fit here is true to size. So I don't know if I should order the same size again and hope for a better outcome or go up?

Verified Buyer

Reviewed by Rufus from Oregon on Thursday, October 23, 2014

Very comfortable and lightweight pair of pants. Dry quickly and resist stains

Reviewed by elmcreek from northern wi on Friday, January 31, 2014

I wanted to try a pair of nylon quick dry pants, but didn't want zip off legs. I have several pair of these pants now and am very happy with them overall. In summer, they are lightweight and dry very fast. I like long pants to fend off bugs, brush, and sun in canoe country, but don't want to slog around in wet pants after every portage. They're usually dry in a few minutes. I wondered about durability when I bought the first pair, but they handle abrasion from rocks and briars pretty well, much better than I thought they would. As long as I'm active in the wintertime, I can get by with a baselayer underneath. I have had to repair a couple crotch seams, but I've had this problem with other pants, too. At least with these pants it was the seam that came apart (easily repairable) and not the fabric itself. I think the first pair is now three years old and they get used pretty hard. They are nice looking pants (think khakis) and I used to feel a little guilty about wearing them camping, hiking, farm chores, etc. I finally got another pair to keep clean for 'going to town'. I will buy more of these pants.

Reviewed by Vlad from Belarus on Wednesday, January 8, 2014

Great pants. Strong and light. Size-fits. Good price. I recommend.

Reviewed by Ryan C. from Georgia on Saturday, December 14, 2013

I had gotten a pair of Royal Robbins 30/32 pants from an REI scratch-and-dent sale, and wore them for the past two years more than any of my other pants. They are comfortable, look good enough for casual work use, and will hold up GREAT in hiking. The nylon that they are made with is lightweight, yet durable. You don't feel every little breeze passing through these pants, as you would with a thinner pair. Combined with some long-johns, they shield you well from the elements and they dry very quickly. I now have three pairs of these pants and will wear them whenever I get a chance. I would highly recommend these pants; you won't be disappointed!

Reviewed by B from Cheyenne on Tuesday, October 22, 2013

They're durable, dry fast, clean easy, don't wrinkle, look nice. There's a nice stretch so they're quite comfortable too. One complaint is the rise is a bit more than I'd prefer, but that could be just because the waist is a bit big on me.

Reviewed by Adam from Queens, NY on Thursday, September 19, 2013

I'm an avid backpacker, and I wear nothing but synthetic pants on the trail. I've been looking for pants that I could wear to work and on the town that offered the same features as hiking pants, especially wear the fabric is concerned. Found 'em. These pants look great, are light as a feather, and easily as soft as cotton. The fact that they resist stains, are water resistant and offer protection from UV rays. I bought three pair, and am satisfied as all get out. I'm 5' 8" and 135 lbs. The 32x32 are a bit long, but for the price, alteration is not a problem. If you do need these bad boys hemmed a bit, please find a tailor/seamstress that can work well with nylon.

Reviewed by Kryder from Pacific NW on Wednesday, September 18, 2013

As with all RR products the quality is first rate. These trousers will serve me well when light weight, cool dress is in order. The hidden, zippered pocket is a nice touch.

Reviewed by Bean Man from Alabama on Saturday, September 14, 2013

Love the pants. Perfect fit. Light weight. Great finish. Good quality. I have several pairs of RR pants and love them all. Also, bought them all at Sierra Trading Post. Extremely pleased.

Reviewed by John from South Carolina on Monday, September 2, 2013

Ordered 36 w 32 l. Pants clearly marked 36w 32l in three different places. Actual size was probably 32w 32l.