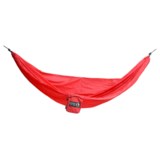 Closeouts. The perfect accessory to kick up your feet and relax at any locale, ENO's single RestNest hammock is specifically designed for the avid traveler. Incredibly lightweight and packable design stores easily in backpacks and suitcases.
Average Rating based on
118
reviews
4.466101
0
5
Verified Buyer

Reviewed by Tony from NorCal on Sunday, December 31, 2017

Recieved all 3 hammocks very fast and gave them to my young adult kids....they loved them..it has inspired them to start piecing together their own backpack equipment for hiking now....customer service chatline was very helpfull also when i had questions before buying....overall experience with Sierra Trading Post was very positive and I will tell other friends and family members about this website

Verified Buyer

Reviewed by tfromm from North Carolina on Thursday, December 21, 2017

Just gave to my son for Christmas - he hasn't used it yet, but we have looked it over and are pleased so far

Verified Buyer

Reviewed by Savvy from Tahoe on Thursday, December 14, 2017

Love this brand and can't beat the price!

Verified Buyer

Reviewed by Icantseeusmile from Idaho on Tuesday, June 27, 2017

Great deal and will be used a ton

Verified Buyer

Reviewed by Fay from Minnesota on Monday, June 19, 2017

I didn't receive the first one. This whole thing has been a mess. I did call the store and they directed me to the 1800 number. I talked to her and she was nice and I told her how I didn't get any messages about it. When I looked up the tracking number she said it was delivered. I told her that I did not get it. She was going to send me another one. I see now that it is suppose to be at my house today. I can't believe that you pay 8.00 for shipping and it takes darn near 8 days to get it. That is not right. When you pay more it should be delivered a lot sooner. I don't know if I will shop here again. This has been almost a 3 week journey. Yesterday I went to Dicks Sporting goods, they didn't have it in the store so I ordered it. It is free shipping and I already received a message today that it is on its way. This is how it should be.

Verified Buyer

Reviewed by Angie from MN on Tuesday, May 16, 2017

Haven't had a chance to try it out yet because it arrived damaged. Awaiting replacement, but am anticipating it will be a great, portable hammock!

Verified Buyer

Reviewed by Wild Woman from Pennsylvania on Friday, April 21, 2017

got this for backyard and short summer excursions..already provided a week of fun attached to clothesline poles with bungee cords for bounce. Bright blue happy summer color, also easy to see ticks and bugs. Comfortably fits adult and child (8 year old) long ways or sitting as a chair. RestNest came with carabiners. Also got an ENO sportsman in green for stealth, but this one had S hooks instead of 'biners. These are lighter, more portable, and so far more hardy than the cotton variety we had last year, which faded quickly in sun and ended up getting run over by zealous lawn-mower. Plus they dry quickly. We are hammock converts! Next buying one with a screen or tent for all night sleeping…couldn't imagine how a hammock would be better than a thermarest in a tent, but we are looking forward to tree sleeping :)

Verified Buyer

Reviewed by Marc S. from Ohio on Tuesday, December 29, 2015

haven't tried these out yet but you can't beat the price for this product!

Verified Buyer

Reviewed by Birddog from California on Tuesday, December 29, 2015

The wife loves this hammock! You won't be disappointed.

Verified Buyer

Reviewed by bill from folsom, ca on Tuesday, July 28, 2015

should have bought more of these. great for backpacking. very comfortable, i am 5'9" 175 pounds. high quality.