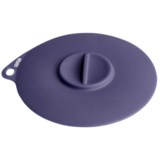 Closeouts. Leftover pet food? Place the Dexas flexible suction lid atop most any opened can, glass or small container, lightly push on the lid center and...Presto! A tight vacuum seal forms to keep food fresher longer.
Average Rating based on
9
reviews
3.111111
0
5
Verified Buyer

Reviewed by MM from Massachusetts on Monday, April 24, 2017

These lids are great as canned cat food covers but I have also used them when steeping hot tea in a cup or to cover a small dish in the frige. Ordered 6 last time because my dog chewed the previous 2 or 3 and I was simply heartbroken! Hands down, STP has the best prices for these!

Reviewed by DeedsNVA from Richmond, VA on Thursday, April 20, 2017

This works well for me for canned cat food. You press down gently in the middle and it forms a vacuum seal. BUT, if you bump it against something, it will move and unseal. If you don't mess with it, it works. It's worth the price for me. The others I've had are hard to put on and take off. This is a little bit far in the other direction, but I'm working with it.

Verified Buyer

Reviewed by ken from michigan on Saturday, April 8, 2017

the lid doesn't hold for long and you cannot easily pickup the can without bumping the lid and loosing connection. drat.

Verified Buyer

Reviewed by Christine & 6 dogs from Southern California on Friday, March 17, 2017

Doesn't work at all, sending them back!!!

Verified Buyer

Reviewed by basecamper from Kentucky on Tuesday, February 14, 2017

I am very pleased with this purchase. It is high quality food safe silicone and is the right size for sealing partially-used cans of cat food.

Verified Buyer

Reviewed by Avid roadie from NY on Tuesday, January 31, 2017

These are no a tight fit, not described as such. I like mine, but just something to know.

Verified Buyer

Reviewed by Anonymous from boulder on Wednesday, January 4, 2017

didn't work for a moment

Verified Buyer

Reviewed by Twinmomma from Tennessee on Tuesday, December 27, 2016

This lid does work as a top for dog food cans, however it does not seal. I've used the silicon tops for bowls and pots that look like these but are big for big bowls... That's what I expected here, an airtight seal so my fridge didn't smell like dog food. Not so much. Perhaps I just hyave weird dog food cans... don't know... but it is better than the plastic sandwich bag taped to the can so I'll be using it until I find something better.

Verified Buyer

Reviewed by funkymama from New England, USA on Monday, December 26, 2016

Did not work. It says on the package that they don't work on cans opened with safety can openers. But our cat food utilizes pull-tops, and though I suppose that might make a difference, and that these could work with cans opened by a can opener, I don't see how. The "seal" created (by pushing this thing down into a concave shape) began slowly letting air back in right away.