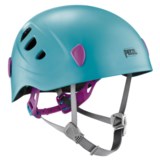 Closeouts. Petzl's Picchu climbing helmet provides reliable protection on the rock and is certified for cycling use as well. The injection-molded ABS shell features side vents and removable, washable foam padding.
Average Rating based on
3
reviews
3.333333
0
5
Verified Buyer

Reviewed by David from Santa Rosa, California on Wednesday, April 18, 2018

The helmet is attractive and fits my friend, a petite woman who had difficulty finding a helmet that fits. It is an attractive helmet with headlamp tabs. There is an adjustment device in the back.

I would be very happy with the design of this helmet except there is one problem. The hard outer shell is glued to a hard or dense polystyrene energy absorption layer. There is a very small, inconsequential padding material. In general, the helmet is comfortable. The problem with the helmet is the very dense polystyrene layer. This design transmits energy directly to the head with little attenuation or reduction of the impact force. As such, sharp blows to the head are more likely to result in a concussion.

If the helmet is used in activities where a concussion isn't possible, this would be a good helmet. For a child helmet, it might be difficult to find another option. My friend will use the helmet for rock climbing, cave exploring and ice climbing. In this situation, rocks or ice could impact her helmet and cause a concussion. We will keep the helmet because using this helmet is better than not using a helmet and it is difficult to find a better design for a helmet this size. However it is surprisingly that Petzl used this design. Likely their engineers felt that kids would not be placed in a situation where a concussion might occur. Yet this helmet has an application for petite women too. It should be stated that no helmet design will prevent all concussions. However in my opinion this helmet is designed poorly to prevent a concussion.

I use helmets frequently in rock climbing, cave exploring, hang gliding, ice climbing, kayaking, rafting and playing ice hockey. After sustaining a bad concussion playing ice hockey, I researched helmet designs.

The following links help in understanding the use of helmets and concussions.

https://www.washingtonpost.com/sports/high-tech-helmets-designed-to-lower-risk-of-concussions-make-nfl-debut/2017/09/11/a18c2c34-973c-11e7-87fc-c3f7ee4035c9_story.html

https://www.popsci.com/helmets-concussions-football

https://gizmodo.com/helmet-safety-is-being-revolutionized-right-now-1692246906




Reviewed by d2003m from Surrey, BC on Tuesday, January 30, 2018

Petzl quality but the sizing of O/S circumference 18.9-21.2 means it's really small. At maximum adjustment It did not fit my 7 year old, who's a small seven year old, so I can only conclude that this helmet of O/S size is for 3-5 year olds. Now I don't know about you but I simply did not entertain the idea of taking my kids outdoor climbing before they were five so I wonder why there's such a smallish fitting speciality helmet. So now I have a size O/S and no one to wear it but luckily it was on sale and I can keep it on hand to use as a bike helmet for young kid relatives who come to visit us.

Verified Buyer

Reviewed by Sky from SD on Tuesday, December 12, 2017

Good quality, adjusts well.