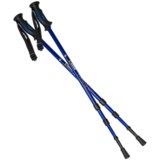 Closeouts. Reach the pinnacle of your adventure with this pair of Mountainsmith trekking poles, offering adjustable length and a built-in anti-shock mechanism that can be switched on for accents and off for stability during descents.
Average Rating based on
538
reviews
4.189591
0
5
Verified Buyer

Reviewed by Jim from Colorado on Monday, August 21, 2017

Not super light but reasonable. Shock absorbers nice. Well made and should last a long time

Verified Buyer

Reviewed by Backpack Dragoness from Louisville on Thursday, July 6, 2017

We are very happy with these. The grips are comfortable and they do precisely what you need trekking poles to do.

Verified Buyer

Reviewed by Trail boss from North Carolina on Tuesday, June 27, 2017

Very comfortable grips, sturdy design, ease of use to telescope.

Verified Buyer

Reviewed by DH from East on Tuesday, May 30, 2017

Using trekking poles is new to me. I was looking for reasonable poles to try out. I used these for several hikes involving 1,500+ foot elevation changes in Capitol Reef, Bryce Canyon, and Mesa Verde on a just-completed trip. These are great poles for the price. Sturdy and reliable. The rubber handles are a little sweaty, but feel comfortable and secure. They are not the lightest poles, but I didn't in any way feel they were a burden. The included rubber tip covers were perfect for protecting bare rock, and the steel tips worked great on gravel and stone trails.The shock-absorber worked flawlessly. Very happy with them.

Reviewed by Tbone Zone from Virginia on Friday, May 26, 2017

I bought 2 pairs. They both worked fine out of the box. After one hike with our family, one set stopped locking and is pretty much useless. The other ones still work fine. Decided not to return because of low initial cost to purchase and the added shipping cost to return. Plan to use the bad pair for parts since I don't have much confidence the second pair is going to last. These are cheaply made. I would likely pay more next time for some thing better.

Verified Buyer

Reviewed by mimsy176 from Monrovia, CA. on Thursday, May 4, 2017

Its a bit tough to crank these tight enough to stop them from shortening down once set. Maybe I just dont know how to do so. I was able to take them apart for packing them up to my sisters on a trip for hiking. The handles are great, the pole seems sturdy and light weight. Just want them to feel like they will stay where I adjust them to.

Verified Buyer

Reviewed by Jebby the Hiker from North Carolina on Tuesday, March 14, 2017

Great Product for Hiking. Easy to Use. They have come in handy(hahaha) since we live near a trail and enjoy hiking. My knees are not what they used to be so I enjoy having the piece of mind

Verified Buyer

Reviewed by Plain Jayne from South Carolina on Wednesday, March 1, 2017

I ordered these after borrowing one from my fried on a hike the other day. I never used a hiking stick or poles, but now at 45, I'm finding the down hill - especially on rocky surfaces- to really take a toll on my knees. So after major prompting from my friend, I agreed to use one on our descent, and I was so glad I did! So, although I haven't used my own poles yet, I was quite pleased with hers, and plan to break mine in on a 9 mile hike this weekend!!

Reviewed by JB from WA on Monday, January 23, 2017

I like the poles, but the baskets both broke the first time I used them snowshoeing. I have since gone directly to mountain smith and ordered replacements. Downside there is the shipping expense. The poles themselves are great.

Verified Buyer

Reviewed by Hiker in Mountains from Souther OR Cascades on Monday, January 23, 2017

I've tried to make these poles work, but no go. Bent Tip on one pair, Second Pair the upper loge would not Lock Up. When I tried the 3rd pair the same problem. Product is defective.