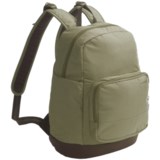 Closeouts. Protect your cash, credit cards, computer and identity from mischievous RFID readers and slash-and-run theft with Pacsafe's Citysafe® LS300 anti-theft backpack. The lightweight, cushioned and fully adjustable design features the invaluable protection of Carrysafe® slashguard padded shoulder straps, eXomesh® slashguard reinforcement throughout and a hanging internal RFIDsafe pocket.
Average Rating based on
1
reviews
4.000000
0
5
Reviewed by Gayle from Indiana on Saturday, March 11, 2017

This was to be my 2nd anti-theft bag purchase. I immediately returned this backpack.

BACKGROUND: In 2009 I bought a previous version of the PacSafe CitySafe 100 crossbody for a trip to Europe. I was a huge fan based on the security features, bright colored lining, water-resistant fabric, and organizational pockets, etc. It was an obvious choice to take it again to Europe in 2011. Due to the bag's small nature, it had only one, easy to use, zipper latch connected to the strap with a "snap hook" (basically a D-clip with a tiny lever).

NOW: Heading back to Europe in 2017 I wanted to change to a small backpack option and immediately went shopping on PacSafe, but ended up comparing 5 different backpacks between PacSafe & Travelon. FYI I ended up choosing the #42310 Classic Backpack from Travelon in Lush Blue.

BAG PROS:
- Small size
- Beautiful soft external fabric & color combo (aqua & navy)
- "Strap latch" to attach to a chair or other grounded item
- External pockets, but small (for water bottle)
- Organizational pockets in front area
- Easy access to both zippers

BAG CONS:
- Fabric does not seem at all water-resistant (and I didn't feel compelled to manually add ScotchGuard)
- No RFID card slots in front area (Card slots are my fave!)
- Front area has 2 pulls, but can be secured by only one stable latch. (Why are the pulls not D-clips that can be secured to each other?! With 2 pulls, attaching either/both to the security latch is far too crowded because 1) either both pulls have to be attached to the pull or 2) the 2nd pull is in the way of attaching to the latch.) I could buy a double D-clip for these pulls, but feel this should be a standard offering.
- I do not understand why the large section pulls aren't D-clips than can be clipped to each other, and thus made secure in any position? Perhaps it's less secure, but in touring Rome & London access to items, making purchases, and handling metro/Underground cards requires a balance.
- The biggest Con is again the large section has 2 pulls that cannot be hooked to each other, but rather secured to one stable latch, which is BURIED down into one of the outside pockets! First, if something else is in the pocket, gaining access to the latch is virtually impossible. Even with the pocket empty the latch is so far down in the pocket hooking & unhooking both pulls requires far too much fuss with the entire bag.

Overall I am absolutely stumped as to why PacSafe has made these changes and choices with the pulls and latches (other than to make them secure beyond normal "touring" use). It was an incredibly disappointing realization.