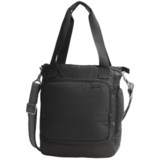 Closeouts. Travel confidently in town and around the world with the Pacsafe Citysafe® LS250 Touring tote bag. Stainless steel mesh inserts, a Carrysafe® slashguard shoulder strap and a RFID blocking pocket help keep your possessions and personal information safe.
Average Rating based on
10
reviews
4.500000
0
5
Verified Buyer

Reviewed by Spokey from Spokane on Monday, November 6, 2017

I ordered this off the description but was not what I wanted although if I were traveling a lot I would definitely keep this in minds. Great features and storage compartments with ballistic materials that cannot be sliced.

Verified Buyer

Reviewed by Busy Parent from Indiana on Thursday, November 2, 2017

This bag is very well made, and it looks great. I appreciate the design and layout. The safety latches are a little tricky to operate. My bag has a small defect (a small spot that looks like bleach on one strap) but it wasn't worth sending it back. Overall, I am very pleased.

Verified Buyer

Reviewed by God is good from Colorado on Thursday, October 19, 2017

I LOVED all the pockets and zippers and safety features of this purse. Yet I was still unsure because the fabric is like what you'd see on a diaper bag or canvas tote. When I modeled it for my husband and asked him what he thought, he diplomatically said, "Very nice. It would be great to use outdoors". He was right. That iced it and back it went to STP

Verified Buyer

Reviewed by Dog Walker from NYC on Wednesday, October 11, 2017

This Travel Bag has everything you need to be comfortable while traveling or for everyday use,perfect size! Great pockets and well made!

Verified Buyer

Reviewed by Alice G. from Washington DC on Saturday, October 7, 2017

After being robbed on the subway in Athens, I decide to get more serious about taking care of my stuff.

This bag is roomy with lots of zippered inside pockets. And every zipper on the outside has an additional clamp to make it a two-step process to open.

I'm very happy with this purchase.

Reviewed by QuinnTwemlow from South Carolina on Saturday, September 16, 2017

I bought this bag right before a three-week trip to Costa Rica--used it every day, and loved it. It's got all the pockets I needed to keep stuff organized--different currencies, brush, map, camera, water bottle, even binoculars. And the fact that it's got the nice-sized RFID pocket gave me confidence, even in a crowd. My renewed passport arrived with a chip on it, so even it was protected by the bag as I traveled. I didn't use all the features--like the zipper locks--but I'm glad they are there for when the time comes and I need them.

The long shoulder straps are heavy--the safety features do make this bag more substantial (and therefore heavier) than some. So I carried the bag a lot of times up against my body with only the shorter straps--they are long enough to serve as short shoulder straps, and with the outside zipper pocket against my body, it was comfortable and secure. The longer shoulder straps will easily let you sling the bag across the body and hold it securely with hands free.

The lining is a light color so you can see what you've got down in the depths, and there's even a secret pocket that I missed for the first week I carried the bag. It's large enough to hold a folding umbrella lengthwise in the bottom.

If I were going to change anything, it would be the color. I bought the rosemary (khaki-brown) because the black seemed too gloomy, and the blue/turquoise too nautical. A nice deep purple would dress up or down, and I would not choose a two-tone if I had the choice. But the khaki served me well and should do so for years. When I get tired of it, I can fabric-paint it!

Now that we're back home, I'll put it in rotation for big trips to town, but otherwise, the bag will be ready and waiting for me when I head to Paris next year!

Verified Buyer

Reviewed by Lsam from Ohio on Wednesday, August 2, 2017

I liked everything but the material

Verified Buyer

Reviewed by Nancy the practical from Texas on Thursday, May 18, 2017

Well thought out bag, secure places for passports, tablets, phone, with room for a water bottle and snacks and other essential things. Very secure with locking clips on outside zippers making it impossible for pickpockets to get on your bag without you knowing it. Will be carrying it across body no too sure how much use the 2 handle straps will be useful.

Verified Buyer

Reviewed by Paladin, have platform will travel from Chicago on Saturday, April 8, 2017

A well-designed tote bag especially for urban and travel purposes, as well as for general usage. It can carry my Chromebook, smart phone, Kindle, scientific calculator, notebooks, writing instruments. Expeditious and utilitarian, effective and efficient.

Verified Buyer

Reviewed by Paladin, have platform will travel from Chicago on Saturday, March 25, 2017

A well designed bag for travel and urban use. Can carry a Chromebook (approx. 11"). High utility.