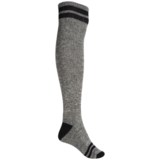 Closeouts. They might look delightfully old school, but SmartWool's Retro Tube socks are infused with a hefty does of merino wool -- a fiber known for its superior temperature control, wicking abilities and anti-odor properties. But with the heathered design and signature cuff stripes? Well, no one will know you've gone modern.
Average Rating based on
16
reviews
4.500000
0
5
Verified Buyer

Reviewed by Drogers from texas on Tuesday, December 26, 2017

These socks are great. They are so comfortable and warm. Love lounging in shorts and my Retro Tube socks. Just like when I was a kid.

Verified Buyer

Reviewed by Kenuto Bruto from Or on Friday, December 22, 2017

Got what I expected, it is a gift I won't be wearing them so unable to judge.

Verified Buyer

Reviewed by Amy from Madison WI on Thursday, December 21, 2017

Really like the fit: snug but not uncomfortable. Love that the stripes are navy instead of black.

Verified Buyer

Reviewed by Nina from Minneapolis on Wednesday, December 13, 2017

Ok, these weren't the most practical purchase. I'm addicted to SmartWool socks and I live in a cold climate, but they're a little bulky to wear under pants/jeans and I don't have the legs to show them off with a miniskirt. I may end up just wearing them around the house.

Reviewed by Syd from Missouri on Thursday, November 30, 2017

I'm in the same boat as the reviewer who thought these socks were simply fantastic. Unfortunately, I didn't even make it to the kitchen before my disappoint struck. While they are quite comfortable, one is far more comfortable than the other as it is the correct size. To be direct: The socks I received are different sizes. I would say neither are truly over the knee socks. Both reach my knees (one about an inch higher than the other), but they do not reach over my knees, so then do end up sliding down onto my upper calves. I don't think I am extraordinarily tall, but just in case you are curious, I am 5"8'. They will suffice for what I need them for, but they aren't what I had hoped.

Verified Buyer

Reviewed by Sarah from Montana on Tuesday, November 21, 2017

Thinner sock than most of my other SmartWool socks but it doesn't matter. I was was warm and cozy. No worries about the sock sliding down.

Reviewed by rogue momma from Seattle on Wednesday, November 15, 2017

These fit just fine, but if you are an old bag like me, don't get them. We should not be wearing over the knee socks anymore. The End

Verified Buyer

Reviewed by Moms favorite from Colorado on Tuesday, November 7, 2017

These are wonderful under jeans on days leggings may be too restrictive. Love them, they stay up, but naturally the fabric gathers at the knee if your not sitting down, but it makes me feel like a Vegas show girl pulling them on.

Reviewed by Ann from Wisconsin on Friday, August 25, 2017

I'm very sad. I pulled these socks out, put them on and thought,wow! These are the greatest since sliced bread....
Walked to the kitchen and looked down and sad, what a disappointment! Husband says, what's wrong? I said, bummer, they have a hole in the toe.
So, know the quality may be off. Shipping is $2.95 or more than half the price to exchange. This is the first real disappointment with STP. I've not ordered from them in a few years and I've been bummed.
PS
Now STP is blocking my email account from posting, giving me an error that my email has an account. When I look for it, can't be found.

Verified Buyer

Reviewed by Joseph from Massachusetts on Thursday, August 24, 2017

She loves them. Reliable brand at better price.. cozy and warm. No defects accurate sizing.