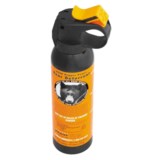 Closeouts. If your adventure leads through bear country, this UDAP 7.9 oz. bear spray may function as a deterrent in the event of a bear attack. Included hip holster allows for quick access.
Average Rating based on
70
reviews
4.500000
0
5
Verified Buyer

Reviewed by coloradojoe from lake george, co on Tuesday, August 15, 2017

This product sprays a full 30' and is very effective againist bears.

Verified Buyer

Reviewed by Joshua from NC on Monday, July 31, 2017

I bought it for a hike in Pisgah, could hear bears nearby around one mile in. I had it attached to my shoulder strap and generally came off quick. Only thing I'd change is maybe put a molle clip on the soft carrier, as my pack didn't have any other way to connect it but a rubber strap

Verified Buyer

Reviewed by Largeone from Kalispell Montana on Monday, July 17, 2017

How do you really rate bear spray until you use it? I'm going to give it a 5 based on the price I paid and I hope I never have to use it. I was fishing one of my favorite holes in small town Montana and a bear started huffing at me from about 50 yards behind. I decided it would be a good idea to have some of this stuff at that point...

Verified Buyer

Reviewed by NMMom from New Mexico on Friday, June 30, 2017

We ordered the Bear Spray to take on our trip to Glacier NP. I had it sent ahead to our friend's home as it cannot be taken on a commercial airplane. I was glad that we did not have to use it, and glad that all members of our party had a canister with them.
We did see a mother grizzly with two cubs from a boat on St. Mary lake on a trail we had just hiked. Glad we did not encounter her on the hike.
The regular price of this item is about 40% less than what you will pay in the park stores. On sale over 50% less. A great buy.

Verified Buyer

Reviewed by Wyoming Mountain Man from Jackson Hole on Tuesday, June 27, 2017

Great price, good product. The right size for dealing with bears in the backcountry. What more can one say.

Verified Buyer

Reviewed by PDub from Winston Salem, NC on Wednesday, November 2, 2016

I bought this for a recent trip in the Smoky's. I didn't have to use it so I cannot attest to its effectiveness but it did attach easily to my pack with the included holster, plus gave me comfort knowing I had it if needed. With the long expiration, I'll keep it around for future trips.

Verified Buyer

Reviewed by Owen from USA on Wednesday, April 20, 2016

Haven't used it but this seems like a quality product. Expiration date on mine was 2021. It comes with a reversible holster for right or left handed people and a nice guide to bear encounters.

Reviewed by Mei from California on Thursday, April 7, 2016

Product came undamaged and as expected, expiration date was at 2021 on my bottle. Bought to use in the backcountry when backpacking/hiking, I will be bringing this along on my trips from now on! It's nice to have peace of mind when your out in the outdoors. Holster seems nice and sturdy also, and is slim and nonbulky if you're worried about weight.

Verified Buyer

Reviewed by Dr Ralph from NY on Monday, January 25, 2016

Convenient size, great price and hope I never have to use it.

Verified Buyer

Reviewed by Mike from KY on Wednesday, January 6, 2016

I purchased this bear spray for my son as he will be walking the appalachian trail in the spring. Time will tell if it is effective, if he needs it.