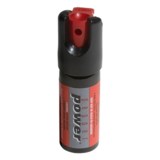 Closeouts. This compact, easy-to-use UDAP pepper spray is designed to fit in a pocket, bag or purse and discharges a 10-foot directional stream.
Average Rating based on
53
reviews
4.207547
0
5
Verified Buyer

Reviewed by aged parent from Colorado on Wednesday, September 21, 2016

Hopefully it will never be used; and hopefully if I ever need it, it will work. I bought it for its unintended use: against possible bear attacks. doesn't have the range or capacity of the big bear sprays, but has 5x the capsicum. The advantage to me is, I can carry it in the sunglass pocket on my (Osprey) hydration pack. If you don't have it with you, or can't get to it, you can't use it, and I carry my pack on any adventure I have in the backcountry.

Verified Buyer

Reviewed by Cycling Girl from Fayetteville, Arkansas on Wednesday, December 16, 2015

I, thankfully, haven't had to use this yet. I bought it for personal safety while cycling. It's small enough that it drops into a jersey pocket or I can stash it in an outside pocket of my small hydration pack. Hope it will never have to come out, but I feel better when I go out alone knowing I have this along.

Verified Buyer

Reviewed by Britt from Buffalo on Wednesday, December 2, 2015

I haven't used it on anyone/anything yet (fortunately), but a test spray confirms it works and the size is great for carrying while running or in a purse.

Verified Buyer

Reviewed by Ted H from Pensacola FL on Monday, August 31, 2015

Just like it looks in the picture, got it for biking, nice small size fits in jersey pocket - haven't had to use it yet - can give more feedback

Verified Buyer

Reviewed by Wyoming Mountain Man from Jackson Hole, WY on Tuesday, March 10, 2015

Very small and light. I wish I had had it when attacked recently by a pack of dogs that bit my leg.

Verified Buyer

Reviewed by Paddlesmart from N.C. on Monday, February 2, 2015

Good price for great protection

Verified Buyer

Reviewed by Dogman from Northern California on Saturday, January 24, 2015

This spray container is very small and easy to carry. Have not used it yet but feel it is a good deterrent option to have available!

Verified Buyer

Reviewed by Tim-T2 from Mt. Baldy, CA on Tuesday, December 23, 2014

This product is NOT 4 oz, it is 0.4 oz., which is close to 1/2 an ounce. This size is only good for seasoning your food !



Verified Buyer

Reviewed by 2ThundersEcho from Elk, WA on Tuesday, October 28, 2014

Nice to have handy when walking outback down a country road. Effective, less-lethal alternative to dissuade domestic, feral or wild vermin from accosting yourself and/or your dog.

Reviewed by Anonymous from Fayetteville, Arkansas, U. S. A. on Monday, August 18, 2014

I bought this for my wife and a neighbor who walks with her. Both women have been challenged by dogs in the neighborhood. They are allowed to run loose and terrorize people who walk in front of the dog's owner's house. He refused to put them up and even denied the dogs were his. As an instructor in the use of pepper spray I noticed STP's listing. I bought the spray and now my wife and neighbor carry it when they walk. A few things to remember, the more Scoville Heat Units the hotter it is and if one sprays' a dog or person intent upon some felonious deed do not stop, keep going. Be sure and wash your hands thoroughly. Do not touch or rub your eyes when this spray is used until the hands are washed. This is a nice compact size that fits in smaller hands or in a purse. A short test spray should be done to insure the canister operates correctly. DO NOT test this inside your house. If used in a real attack buy another. DO NOT leave this in a car during the summer months as it has the potential to explode. If alcohol is the ingredient that makes it spray under pressure keep it away from flames. Finally check the expiration date on the canister.

For the price this product is really a steal. STP provides nice quality products at a great price.