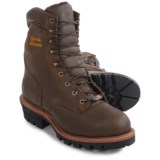 2nds. Waterproof, insulated and made in the USA, Chippewa's 9" Super Logger work boots reliably handle challenging conditions. The triple-ribbed steel shank and waterproof breathable construction keep feet dry and well-supported, whatever the job demands.
Average Rating based on
15
reviews
4.333333
0
5
Verified Buyer

Reviewed by Zombie Defender from Northeast on Friday, December 15, 2017

At this price you can't go wrong
Chips are the best boots I've owed for there purpose. I have many many pairs of boots for different activities
Even though I don't climb anymore they are great

Verified Buyer

Reviewed by Barbp from New York on Tuesday, December 12, 2017

While lacing up the boots to try on, one of the caster hooks on the boot popped right out - the back of it is broken so there is nothing to snap it back in with. Don't have the time to return them as they were seriously needed, customer service was not helpful and now say that the boots are no longer available. Guess will have to make them work

Verified Buyer

Reviewed by Sean the tin knocker from New Hampshire on Tuesday, December 5, 2017

Great boots as always would def recommend

Verified Buyer

Reviewed by Amy from New York on Tuesday, December 5, 2017

I am so very pleased with our purchase. There was absolutely no issue with our boots nor our order. As a single mom this was a great way to save money and get the boots my son really wanted.

The customer service was wonderful! I would suggest this product and this company to anyone!

Happy shopping!! And sign up for the email notifications! You can't beat the deals!

Thank you Seira Trading Post!!!!

Verified Buyer

Reviewed by j1975r from Sierra Nevada on Friday, November 24, 2017

This is the main reason I bought these boots as a gift for my son. Not to mention the price Sierra Trading Post sold these boots for, it was a no brainer. They are well made, very durable, along with wide widths.
Glad I bought them and my son was very happy I did..


Verified Buyer

Reviewed by Nathan from New York on Wednesday, November 22, 2017

I have worn Chippewa boots since high school. And they are expensive but well worth the price. When I saw the price on these factory 2nds, I couldn't pass it up. Not one thing i could find wrong with them. Great svings. Great price. Great boots. I ended up getting two pairs for the price I would have almost paid for one pair in town.

Verified Buyer

Reviewed by Dave from NY on Thursday, November 16, 2017

Boots are nice and made in USA ????. I miss the old days of coupons and fast order processing / shipping.

Verified Buyer

Reviewed by Thinking about it from Pacific NW on Friday, October 27, 2017

My husband loves his new boots. It took only a few minutes to feel like they fit him perfectly. He has been logging our hill and feels supported and his ankles are secure. The steel toe is a must for him, and it's already done the job twice. He does use a Carhartt boot sock with them and this is fine for Fall and Winter. He believes he'll go to a thinner sock in summer.

From a wife's perspective, I love them too...they look good and protect my hubby. They do bring the outdoors inside and I had to chase him around with a vacuum. However, the design allows the smaller gravel bits to fall out and for the most part he tracks in dirt (Just some obvious FYI there.)

Verified Buyer

Reviewed by Crocket from Pennsylvania on Tuesday, October 24, 2017

The boots are great would differently purchase items from here again.

Reviewed by saltwater fisherman from New England on Monday, September 18, 2017

I have owned Chippewa boots in the past, but not the Super Loggers. I was on the edge after reading the reviews, but after receiving the boots, they are the real deal! Only thing I could really find wrong, was a small blemmish on the side of the boot, about the size of a quarter. This SHOULD really not be a big deal to anyone on here, as these are intended for work!!! I have bought my work clothes from STP for years and I plan to continue so, long into the future.