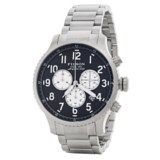 Closeouts. Assembled in Detroit with Swiss-made parts, Filson's Mackinaw Chronograph field watch features three chronograph counters, Shinola Argonite quartz movement for accuracy, and Super-LumiNova hands and numbers for optimal readability.
Average Rating based on
3
reviews
5.000000
0
5
Verified Buyer

Reviewed by Mike from Nashville on Sunday, June 25, 2017

Great looking Filson/Shinola sturdiness. Amazing STP price. What's not to love?

Reviewed by MW from Virginia on Thursday, May 11, 2017

I bought this watch a few days ago, I can't speak to ongoing reliability but I can certainly speak to initial quality. What you can't see in a picture is just how comfortable this watch is the wear. I have several bracelet watches ranging in price and none come close to this comfort. Slept with the watch on and forgot I was wearing it. I have read several reviews of the Filson (Shinola) watches here and at different sites. Yes, $1000 is probably too much for this watch, but not as overpriced as most folks think. Glare coated sapphire crystal lenses are pricey, this bracelet and case are at a very high level of quality. It does not have an automatic movement, that is about the only difference between this watch and those costing many times more than the initial price. I am not buying this watch as a collectors piece I intend to wear it and as such not having to fiddle with and maintain an automatic movement is fine by me. The design is beautiful to look at and the viewing angles are plentiful. The Super-LuminNova hands perform about as expected (well). When I got the navy dial watch I was so taken that I ordered another with a different color face. You will not be disappointed when you consider the sum of the parts and see what you can't see in the picture.

Reviewed by Aunt S.N. Mapantz from California on Saturday, April 15, 2017

Perfect all around watch. For the STP price, grab it. These watches were WAY overpriced when they came out. See all the reviews. They say exactly the same thing. For this price range, I cannot find a better watch deal anywhere. It is a great value at this price point. At $1,000, no way, Jose. No. But for under $400? Yes! Filson would have sold a million more watches if they had started here, but I think they wanted to avoid being the Fossil 2.0, which, okay, makes sense. You don't want to pick these up on the clearance rack at Kohls (no offense). This is a BadA.. watch. The only drawback is that the white chrono windows can interfere with the white dials in certain quick glances, but I'm not pulling my Ferrari around bobby pin turns at Laguna Secca Raceway, so I can look back down long enough to tell that it is 2:30 and not 9:30.