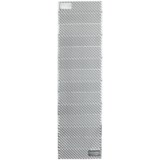 2nds. Therm-a-Rest's Z Light Sol sleeping pad features ultralight closed-cell foam with a heat-reflective surface for added warmth. The accordion-style folding design is easy to attach to your pack.
Average Rating based on
15
reviews
4.533333
0
5
Verified Buyer

Reviewed by JFranklin from Idaho on Tuesday, July 10, 2018

I found this pad to be surprisingly comfortable. When laid upon hard-tile, it was equally as comfortable as my Therma-Rest Army Sleeping Pad, which is a self-inflating pad.

I prefer this feeling over an inflatable sleeping pad, as it feels more like a bed, albeit not as cushy.

The only drawback of this item is that it is difficult to pack into a backpack because of its bulk. Often times the bottom of a pack is used for a tent, leaving this item no easy placement in some backpacks.

Verified Buyer

Reviewed by peonyjade from New York on Monday, June 25, 2018

We already have a Therm-a-Rest Z Lite Sol Pad that we bought at full price so we were elated to see that STP sells it at a fraction of the full price! Granted, the item is marked irregular but it is hard to spot unless you actually scrutinize it. For ours, it was basically just small area of the pad that had missed the insulation coating but other than that, it looks every bit as good as a regular one. In fact, we love it so much we bought 2 from STP!

Verified Buyer

Reviewed by Ace from Spokane washington on Monday, June 25, 2018

Its a solid foam mat at an exceptional bargain

Verified Buyer

Reviewed by Dima from Synelnychenko on Monday, June 25, 2018

Very, very comfortable and warm mat for sleeping!

Verified Buyer

Reviewed by College Camper from Oregon on Wednesday, March 14, 2018

Be forewarned that Sierra Trading Post is selling irregular or damaged pads. I had to exchange the first product I received. The silver thermal lining had split near the top of the pad and was moving down. No problem. I exchanged and received a new pad. Not sure if that was the right idea as this one has even more tears and holes in the lining. I decided not to return this one and deal with it.

For the pad itself, it's actually fairly comfy given how thin it is. The eggshell pattern gives a little bit of squish so it's not like youre rolling on an old blue Coleman. It's no air pad, but the benefits of just rolling it out beat blowing for a few minutes by far.

I'm using this primarily as a secondary pad for winter camping and so far it has done a fair job of keeping the cold out. When it dips below 15, I'll start to feel a chill, but I also don't make a lot of heat. Anything above that though, it's fantastic as a light extra piece of insulation. The accordion folding does take up some space, but it can be curved around your pack in almost any way to be strapped down.

My only complaint is the durability. Given the thermal lining boosts the R-value, the tearing might ruin the warmth factor. But time will tell.

Final thoughts, for $20 it's a lot easier to swallow than MSRP of $45 for what is essentially some foam and an emergency blanket. Still, understand that you will get an irregular or damaged pad.

Verified Buyer

Reviewed by TN Philmont from Tennessee on Monday, February 26, 2018

Great lightweight pad. Inexpensive. The nice feature is that is clipped to outside of pack so if you stop for a 20 minute break, or lunch, you can easily be unclip from pack, lay out or use for headrest, and reclip to backpack in no time. Great for day hike. My wife uses it for extra padding under towel when sunbathing at beach or home.

Reviewed by Jack from Florida on Thursday, February 22, 2018

Its not the most comfortable but it wont leak air and it weighs very little.

Verified Buyer

Reviewed by HikeandSki from California on Wednesday, February 21, 2018

I bought 2 of these for my teenage kids. So lightweight and the reflective material is insulating too! We keep popping the expensive inflatable pads so hoping these will last a season or two at a fraction of the cost.

Verified Buyer

Reviewed by Fun Fact from California on Friday, January 26, 2018

paid $25, best price anywhere i could find it. Thank you sierra trading post !

Verified Buyer

Reviewed by Carolyn from PA on Tuesday, January 23, 2018

The silver cover on the mat was a bit wrinkled, which made me wonder if it had it's full contingent of foam. My son used it ove this past weekend and declared it was good though.